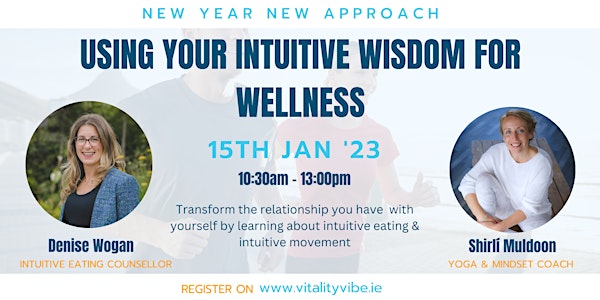 Intuitive Eating & Movement workshop
Begin your New Year with a new approach to diet and movement.
When and where
Location
Felda Health, Spa & Fitness Dublin Road Dundalk Ireland
Refund Policy
Refunds up to 1 day before event
About this event
👉 Do you want to eat when you are hungry, eat what sounds appealing to you. Then stop when you are full?
👉 Do you want to decide when and how you move, and actually look forward to the exercise you choose?
👉 Do you want to learn the skills to empower you in your health goals, building your self confidence and self image.
Join Shirli and Denise for a workshop where you will start the process of transforming the relationship you have with yourself by learning about intuitive eating and intuitive movement.
What is it?
This is a 2.5 hour workshop with Denise Wogan, founder of FooDee Nutrition and Shirli Muldoon, founder of Vitality Vibe.
🍏 Denise will offer an introduction to the subject of intuitive eating, a self care eating framework that allows you to eat freely, to eat without the need for a diet plan.
🍏 Intuitive Eating has been heavily researched and is scientifically proven to impact your mental and physical health and self-esteem.
🧘‍♀️ Shirli will teach you how to become connected to your real self, to your intuition through breathwork and meditation.
🧘‍♀️ She will also teach you a gentle movement practice that lowers cortisol (the stress hormone) in the body and activates the parasympathetic (rest & repair) part of the nervous system.
With less cortisol and the body feeling safety, it naturally will reset to a place of balance and wellness.
This workshop will provide you an understanding of how to overcome some of the challenges of not having a positive relationship with food, movement and yourself.
👉 How to feel in control of your eating?
👉 How to listen to and trust your body?
👉 How to figure out what you should be eating?
👉 How to become the person who wants to move?
👉 How do you put intuitive eating into practice?
👉 How to manage your stress and emotions without relying on food?
👉 How will you know if your actions are supporting your health?
👉 How to engage in self compassion exercises?
Who is it for?
The Masterclass is for women who do not want to diet in 2023, who are ready to invest in learning new and exciting information that will empower them in their Wellness Goals in 2023 and beyond.
Denise Wogan is a Certified Intuitive Eating Counsellor, Professional Life Coach and Registered Nutritional Therapist. You can find out more at https://foodee.ie/
Shirlí Mallon is a Certified Yoga Instructor, Breathwork Coach & Meditation Teacher. You can find our more at https://vitalityvibe.ie