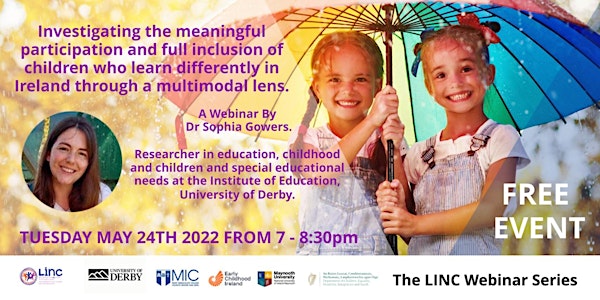 Investigating the meaningful participation and full inclusion of children..
Sales Have Ended
Registrations are closed
This event is now finished the next information session will be held on Tuesday the 25th of January at 7pm. See the LINC Consortium Eventbrite page for more.
Within this webinar, Dr Sophia Gowers will explain her role in designing a multimodal case study approach to the evaluation of the AIM model
About this event
Open to everyone, this Webinar will be of particular interest to all those working with children in Early Childhood, Early Childhood Teachers who work in the Early Years, Primary School Teachers, students studying on Early Childhood Care and Education and Primary School Teaching programmes; LINC Students and Graduates, along with those who work in the broader Early Childhood Sector.
The Access and Inclusion Model (AIM) is an evidence-based, award-winning model for inclusion in the Early Childhood Care and Education (ECCE) programme. Dr Sophia Gowers was a member of the research consortium, led by The University of Derby, that was commissioned by the DECDIY to conduct the end-of-three-year evaluation of AIM. The evaluation sought the perspectives of key stakeholders including policy makers, practitioners, parents, and uniquely to a policy evaluation, young children themselves as key informants. Within this seminar, Sophia will explain her role in designing a multimodal case study approach to elicit young children's perspectives on their full inclusion and meaningful participation in pre-school settings. This involved working in collaboration with Dr Lisha O'Sullivan (MIC) to recruit and train a group of Practitioner Researchers, all of whom were LINC graduates. Following training the Practitioner Researchers engaged as co-researchers in field work activities in pre-school settings across Ireland. Sophia will present an overview of the case study context ahead of vignettes which illustrate the use of multimodal map-based approaches by the Practitioner Researchers to capture young children's experiences, engagements and perspectives. Each of the vignettes will highlight the voice of the child, drawing attention to their self-perception of inclusion and meaningful participation. In her discussion of the case study findings, Sophia will highlight the valuable role practitioners can play in promoting inclusion and the value young children placed in developing relationships with others. Sophia will conclude by considering the contribution that attending to multimodal communicative practices can make to listening to young children's views and informing future policy and practice.
Sophia is a public sector scholar at the University of Derby. She is a member of the Inclusion and SEND Research Cluster. She is currently working with Professor Deborah Robinson on a project commissioned by the DCEDIY to evaluate the Access and Inclusion Model (AIM) in Ireland. She programme leader for the Early Years SENCo course. Before taking up her post, Sophia worked as a postdoctoral research associate at the PEDAL Centre within The University of Cambridge and at Leicester University Law School. Sophia's background is in Education, having worked as a SENCo and teacher within the primary and early years. Sophia's research interests include participatory and visual methods, inclusion, and the multimodal practices of young children. She co-creates and designs participatory and visual approaches to elicit children's views.
The webinar will feature an introduction from Professor Emer Ring, Dean of Early Childhood and Teacher Education at Mary Immaculate College, who was one of three expert advisors for the end-of-three-year evaluation of AIM. Following Dr Sophia Gower's presentation, a discussion will be facilitated by Shirley Heaney, National Coordinator of the LINC Programme.