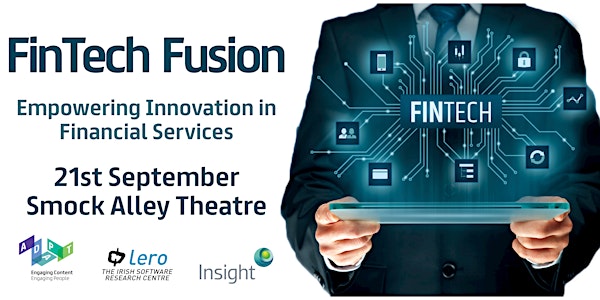 Invitation to ADAPT FinTech Launch
When and where
Location
Smock Alley Theatre, 1662 7 Exchange Street Lower D08 PX27 Dublin 8 Ireland
Description
Registration now closed. Please email rebecca.wilson@adaptcentre.ie if you wish to attend.
The ADAPT Centre, an SFI Research Centre, invites you to the launch of FinTech Fusion, an exciting research programme that will empower innovation in Financial Services.
We are delighted that Ireland's Minister for Finance, Paschal Donohoe TD, will officially launch this ambitious research programme.
The event will showcase the technical, societal and economic impact of FinTech Fusion's research programme, the largest project of its kind in Ireland. Contributors will address the critical challenges experienced by the financial services industry with payments, regulation and insurance at the centre of the initiative. FinTech Fusion's will transform Ireland into a financial technology hub for Europe and ensure we remain at the cutting edge of the digital revolution.
The ADAPT Centre has openly invited financial institutions to take part in the research. Organisations interested in getting involved will have an opportunity to meet with the founding partners of the initiative along with the academic experts who will deliver the world-class research. This FinTech research will bring together academic expertise from three SFI Research Centres: ADAPT, Insight and Lero.
Join us for what promises to be an insightful event.
Draft Agenda:
10.30am: Registration with refreshments.
11.00am: Welcome address.
11.10am: Minister for Finance, Paschal Donohoe TD.
11.20am: Director General of SFI, Prof Mark Ferguson.
11.30am: Overview of FinTech Fusion research programme.
11.40am: The Power of Collaboration: Industry and Academic Fusion.
12.00pm: Q&A.
12.15pm: Industry testimonials.
12.30pm: Closing remarks, lunch, networking and poster exhibition.
Venue: Smock Alley Theatre, Dublin.
Time: Start time 10.30am.