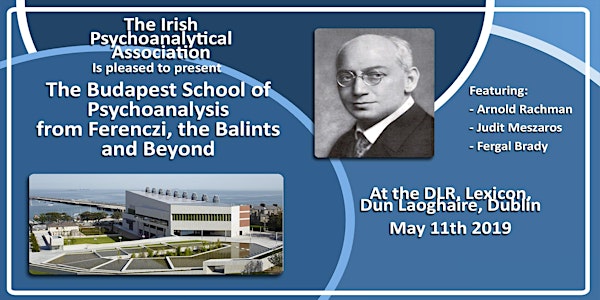 IPAA Conference 2019: The Budapest School of Psychoanalysis
Event Information
Location
dlr LexIcon
Haigh Terrace
A96 H283 Dublin
Ireland
Irish Psycho-analytical Association of Ireland Conference - 6 PSI/ICP/IACP CPD points. Featuring Dr Arnold Rachman & Dr Judit Meszaros.
About this event
The Psychoanalytic Committee of the Irish Council for Psychotherapists (ICP) have awarded it six CPD points.The IPAA 2019 conference will cover themes of the theory and practice of Ferenczi and the Budapest School including:
Innovations in therapeutic approach.
Counter-transference in the therapeutic relationship.
Psychology of Regressive States.
A therapeutic model for treatment of Adult Survivors of Sexual abuse.
It has also been awarded 6 CPD points by the Irish Association of Counselling and Psychotherapy (IACP).
Final Programme:
09.30 Registration
10.00 Welcome
10.05 President's Address – A Budapest State of Mind – Fergal Brady
10.45 Dr Marcus Bowman – The Development and Consequences of Freud's Seduction Theory
11.10 Coffee Break
11.30 Dr Arnold Rachmann – The Evil Genius of Psychoanalysis
13.00 Lunch
14.00 IPAA@The Movies – A special documentary on Ferenczi made as part of the 'Major Figures of the 20th century series' – Introduced by Dr Judith Mezaros
15.00 Dr Judit Mezaros – 'Why Ferenczi Today?
15.20 Coffee & Animated Short: The Confusion of Tongues – Em Cooper (2018 Emmy Nominee).
15.40 Dr Arnold Rachman – 'The Confusion of Tongues'
16.00 Panel Session – Chair: Ros Forlenza
16.20 Bringing Psychoanalysis To The NHS: The Balint Group – Christine Christie
17.00 Video presentation: Circumcision, Self-analysis and Countertransference by Robin Buick RHA.
17.45 Conference Close
About the Balint Groups:
Balint Groups and Multi Disciplinary Team approaches in Health Service settings.
A pioneering early Psychoanalyst, friend, correspondent and key associate of Sigmund Freud, Sandor Ferenczi's work has been enjoying a revival in recent years. His creative experiments in technique are discussed along with an assessment of his key theoretical contributions.
Michael Balint left Hungary in 1938 settling in the UK. His contribution inludes what became know as 'Balint Groups'. After the death of his first wife Aliz, he continued his work with a new creative partner Enid Balint.
We explore the unifying ideas behind what has become known as the Budapest School along with these major authors and present the first major Ferenczi event to be held in Ireland.
Lunch is included in the ticket price.
Date and time
Location
dlr LexIcon
Haigh Terrace
A96 H283 Dublin
Ireland