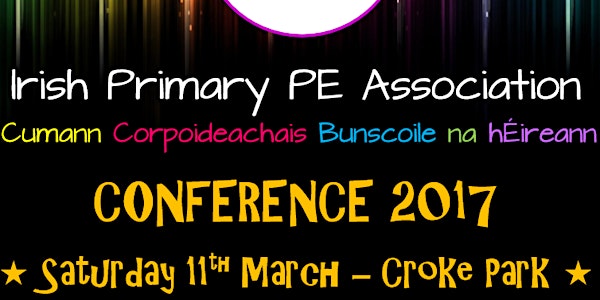 IPPEA Conference 2017 - Time to Change the Game? Reimagining Primary Physical Education
When and where
Location
Croke Park Jones Road Drumcondra Dublin Ireland
Description
The theme of this years conference is 'Time to change the game? Reimagining primary PE'. The practical conference workshops will have a particular focus on teaching and learning within the games curriculum strand, as well as addressing a number of other PE strands. Attention will also be given to potential future developments within primary PE. The focal point of the day will be the address by Mr. Claude Scheuer Chairperson of the European Physical Education Association as well as presentation of the second annual IPPEA Primary Physical Education Teacher Award. Online applications are now open and any professionals interested in teaching primary PE can come along to the event.
Conference Schedule:
9.00 – 9.45: Registration, Tea/Coffee
09.45 - 10.00 Welcome from IPPEA commitee
Participants choose one workshop (subject to availability) from each time slot.
Session 1: 10.00 – 11.10
Yoga for children with autism
Co-operative games
Can we play a game teacher
Playground Games
One Wall Handball
Session 2: 11.20 – 12.30
Yoga for children with autism
Co-operative games
Can we play a game teacher
Playground Games
One Wall Handball
12.30 – 1.00 Lunch
1.00 – 1.30 AGM
1.30 – 1.40 IPPEA Award presentation
1.40 – 1.55 European PE Association address
Session 3: 2.00 – 3.00
The Games Children Play
Tennis for Health and WellBeing
Me Too! Integrating a child with SEN in the PE class
Teaching FMS through games
GAA Fun and Run
Session 4: 3.10 – 4.10
The Games Children Play
Tennis for Health and WellBeing
Me Too! Integrating a child with SEN in the PE class
Teaching FMS through games
GAA Fun and Run
Workshop Descriptions

Title: Tennis for Health and Wellbeing
Presenter: Oli O'Toole (Tennis Ireland)
The new Tennis for Health & Wellbeing Schools Programme has just been launched by Tennis Ireland, with free lesson plans for teachers with videos embedded to show how to deliver tennis in PE no matter what facilities you have - no nets, no problem! Each set of lesson plans comes with accompanying health & wellbeing factsheets and certificates. The workshop will focus on practical examples of lots of games from the lesson plans that will keep every student active for the entire PE session.
Title: GAA Fun & Run and Online Primary PE Planner
Presenters: Pat Culhane, Charles Harrison, Martin Fogarty Gaelic Athletic Association (GAA)
This practical workshop aims to introduce teachers to the new GAA Fun & Run game and Online Primary PE Planner. GAA Fun & Run is a new non-contact and inclusive game. It is suitable for children of various abilities - including those with disabilities, those who may be socially deprived and those from ethnic minority groups - who often perceive themselves to be excluded from mainstream GAA activities. The GAA's Online Primary PE Planner is tool to help teachers plan, save and share their lessons by selecting from a variety of Gaelic games and related movement activities.
Title: Playground games in your PE lesson
Presenters: Ciara Blennerhassett & Grace Crowley (IPPEA committee members)
This fun and practical workshop will provide you with a variety of ideas, games and activities around the theme of playground games. It is aimed at all class levels and it will look at teaching children to play playground games in PE lessons. Many of these games are easily adaptable and usable at break times. Lots of ideas about how to implement this will be given.
Title: Yoga for children with autism
Presenter: Anya Kruger (Yoga Teacher for Children with autism)
Discover your inner child! This workshop is aimed at teachers of children with autism and teachers of the younger age groups (4-8 years). Through rhythmic movement and yoga poses we explore how animals and dish washers move. We travel to exotic and familiar locations, have great fun watching how our bodies work, get excited and calm down. Every movement comes with a rhythm, song or sound and is practice tested. We finish in deep relaxation. The techniques introduced can help children with autism and other special learning needs to become more body aware, co-ordinated and self-regulated.
Title: The Games Children Play
Presenters: Missy Parker (IPPEA Committee member) and Jessica Manigone (University of Limerick)
Remember the days of going outside with your friends and making up your own games to play? Games that were enjoyable for all of you? Games lessons are more meaningful to children when they are allowed to design their own games as children are able to problem-solve and create activities that meet their needs and interests. The purpose of this workshop is to provide basic guidelines that allow children to create their own games. This active session will focus on using psychomotor skills as the basis for game creation. Strategies for helping children develop the necessary structures, rules, boundaries, names, will be presented.
Title: Co-operative Games
Presenters: Caitriona Cosgrave (IPPEA committee member) and Liam Clohessy (IPPEA Chairperson)
This workshop will explore co-operative games which can be used in a variety of PE lessons to engage and motivate pupils to work together in non-competitive contexts. Participants will undertake a range of activities using homemade equipment which can be easily replicated in the school setting. Participants will also get the opportunity to try out Kin-Ball an exciting alternative game which challenges pupils to co-operate to manoeuvre a giant ball. This unique game is highly inclusive, active and supports pupils in their learning about the importance of team work. For a sneak preview of this fun game check out Kin-ball videos online.
Title: 'Can we play a game teacher?'...improving how children play the game
Presenter: Frances Murphy (Physical Education Unit, Institute of Education, DCU, St Patrick's Campus)
How can I manage children playing games during PE class? Are they learning to play games well? How can I manage to cater for the wide range of abilities? This workshop will prompt you to think about how you teach games within PE classes and beyond underpinned by a 'Teaching Games for Understanding' (TGfU) approach. The emphasis will be on adapting this approach to help you manage the playing of games (any sport!) so that children improve not just their skills but also their tactical awareness. No particular games experience is required and there will be some time to view video clips of this approach in practice.
Title: One-Wall Handball for Schools
Presenters: Darragh Daly & Deborah Foley (GAA Handball)
This practical based work shop will provide participants with an introduction to Schools One-Wall Handball. Based on a 'Fundamental Handball' coaching manual for teachers, the session will teach a wide variety of mini games and activities to accommodate large class numbers, with minimal equipment. Fun and enjoyment is a key theme throughout the session, with games aimed at improving the fundamental movement skills of children through Handball. An indoor workshop, but all aspects of the session can be tailored for outdoor use, and modified for smaller spaces.
Title: Teaching FMS through games
Presenters: Ciara Delaney (IPPEA Committee member and PDST) and Catherine Knight (PDST)
Fundamental Movement Skills are the basic building blocks of movement. These skills are not only the precursor to sports specific skills but are also an essential part of everyday life and recreational activity. In this fun and practical workshop, we explore a range of locomotor, stability and manipulative fundamental movement skills through a variety of activities that can be applied to any strand. These activities form part of the Move Well, Move Often Physical Literacy Resource Pack for Teachers currently being rolled out nationally by the Professional Development Service for Teachers (PDST).
Title:Me Too! Integrating a child with SEN in the PE class
Presenters: Mary Corry and Aine Cooogan (CARA centre)
This practical workshop will provide participants with useful ideas on how to include children with varying SEN in their PE classes through the use of the TREE concept. Áine is an experienced CARA tutor of Disability Inclusion Training, whilst Mary is currently developing an Inclusive PE inservice for Primary teachers with the SESS. This workshop will have a particular focus on the Games strand of the PE curriculum and through the use of the Inclusion Spectrum, demonstrate how best to ensure ALL children in a class are included in game activities.