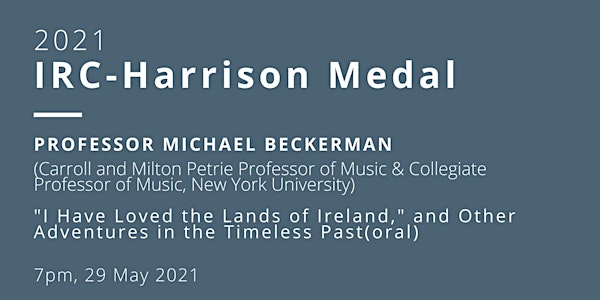 IRC-Harrison Medal: Professor Michael Beckerman
Presentation of the IRC-Harrison Medal to Professor Michael Beckerman
About this event
Join us for the presentation of the IRC-Harrison Medal to Professor Michael Beckerman during the Joint Plenary Conference of the Society for Musicology in Ireland and the Irish Chapter of the International Council for Traditional Music.
'I Have Loved the Lands of Ireland,' and Other Adventures in the Timeless Past(oral)
This talk explores the way music references certain experiences around the idea of a nostalgic idyll. Looking at examples ranging from Seóirse Bodley's Symphony No.2 to Bohuslav Martinů's Opening of the Wells, and from the soundtrack of Princess Mononoke to the song, "Cobweb of Dreams," I argue both for the legitimacy and power of this category of experience (often excluded from serious consideration), and for its origins in a complex "cobweb" of nostalgia, purity and anxiety. As part of the inquiry, I also revisit issues around music's "past tense," and locate it, at least in part, in a kind of plagal pastoral.
Michael Beckerman is Carroll and Milton Petrie Professor and Collegiate Professor of Music at New York University where he is also head of the Department of Music. His diverse areas of research include Czech and Eastern European music; Musical Form and Meaning; Film Music; Music of the Roma; Music and War; Music in the Concentration Camps; Jewish Music, and Music and Disability. He is author of New Worlds of Dvořák, Janáček as Theorist, has edited books on those composers and Bohuslav Martinů, and has just published, with Paul Boghossian, a volume on issues around classical music. He is the recipient of numerous honours, from the Janáček Medal of the Czech Ministry of Culture in 1988 to an Honorary Doctorate from Palacký University Olomouc (Czech Republic) in 2014. He served as Distinguished Professor of History at Lancaster University and the Leonard Bernstein Scholar-in-Residence at the New York Philharmonic. He is currently working on a volume titled The Doctrine of One.
Attendance is free but delegates must register in advance.
---
Please note, this registration link is for the IRC-Harrison Medal event only. If you would like to register for the full conference, please do so here.