IRDG Future-Proofing Enterprise - Industry Trends Analysis with Darrell Man...
Description
This one-day event is all about gaining a hands-on insight into just how predictable the future of any enterprise is. Generation of patentable solutions guaranteed!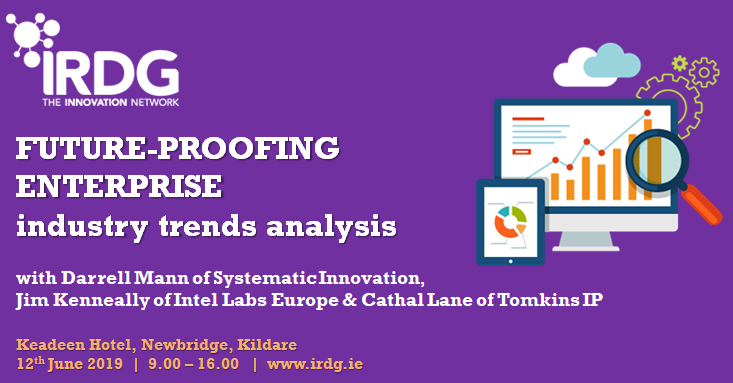 We're living in a changing age, facing new and disruptive technologies across all sectors of industries. As companies look to develop and stay relevant for the future, it's imperative to have an eye to the technological, scientific and industry trends well ahead of their impact. And to have a systematic way to achieve that.
In that context, we're delighted to bring you Darrell Mann, recognised as one of the world's most prolific inventors, together with Jim Kenneally, Director, Research & Market Intelligence, Intel and Cathal Lane, Managing Partner Tomkins IP for a unique session. You'll get best practice insights from practitioners and their experiences working with leading edge companies across the world.
Enquiries to Mary.Byrne@irdg.ie