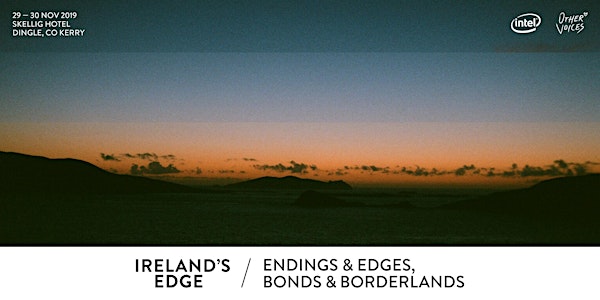 Ireland's Edge – Endings + Edges, Bonds + Borderlands
Ireland's Edge – Endings + Edges, Bonds + Borderlands. Join us at the Edge to connect, disrupt, play
When and where
Location
Dingle Skellig Hotel Skellig Hotel Dingle Ireland
Refund Policy
Contact the organiser to request a refund.
About this event
Ireland's Edge – Endings + Edges, Bonds + Borderlands
Brexit, Ireland's place in Europe, the climate emergency, mass migration, immigration, and the role and impact of the digital revolution, are all issues that have been subjects of continuous discourse, argument and reappraisal in 2019. This November an inspiring line-up of speakers will interrogate these issues in the light of new and rapidly changing realities. 
The borderland between the known predictable world and the uncharted territory ahead will frame our discussions at Ireland's Edge this November. As ever, the Ireland's Edge talks and performances will happen in the company of a curious attendance of thinkers, policy makers, innovators, commentators and artists.
Join us at the Edge to connect, disrupt, play
Ireland's Edge – Endings + Edges, Bonds + Borderlands is presented in partnership with Intel Ireland and supported by the Department of Foreign Affairs and Trade, The Department of Culture, Heritage and the Gaeltacht, IDA Ireland and Jones Engineering.
FRIDAY TIMINGS // 13.30PM - 5.45PM
SATURDAY TIMINGS // 11.30AM - 4.35PM
// OUR LINE-UP//
-       Donie O'Sullivan
       Reporter, CNN
-       Peter Geoghegan
Journalist at openDemocracy + Author of upcoming book Democracy for Sale: Dark Money and Dirty Politics
-       Carole Cadwalladr
Investigative Journalist + Features Writer, The Observer and The Guardian
-       Michael Keegan-Dolan
Artistic Director of Teac Damsa  
-       Timmy Creed
Writer + Performer of SPLICED 
-       Sophie Motley
Artistic Director, Pentabus Rural Theatre Company
-       Nora Hickey M'Sichili
Director, Centre Culturel Irlandais, Paris
-       Ray Giffen
Creative Director, The Duncairn Belfast
-       Eimear Ryan
Writer
-       Matthew O'Toole
Former Brexit spokesperson in Number 10 Downing Street + Writer on British and Irish Politics
-   Cormac Begley
Acclaimed concertina player amd Founder of Airt (Residential Arts School)
-   Christopher Kissane
Historian + Journalist
-   Crash Ensemble
-   Kate Ellis
Artistic Director and Cellist, Crash Ensemble
-   Guillaume Auvray (in collaboration with Virtual Reality Ireland)
Interdisciplinary Artist, Composer and Conductor
-       Mark Duncan
Co-Director, Century Ireland and Founder of the InQuest Research Group
-       Manchán Magan
Irish writer, traveller and television programme maker
-       Saoirse McHugh
Environmentalist  
-       Martha Farrell
Co-Founder of the Maharees Conservation Association
-       Sinead O'Carroll
Editor, The Journal.ie
- Ruth Sanderson
Broadcaster and Presenter of the The Brexit Club Podcast
- Oisín Coghlan
CEO, Friends of the Earth Ireland
- Sean Doran
Creative Director, Arts Over Borders
- Deirdre De Bhailís
Manager, Dingle Innovation and Creativity Hub
- Tomás Ó'Sé
GAA Pundit and Journalist, Former Kerry Footballer and GAA All-Star
- Valerie Mulcahy
Former Cork Footballer and 6 time All-Star
// WITH MORE TO BE ANNOUNCED //
//Complimentary refreshments provided across Friday and Saturday + a complimentary lunch will be served on Saturday.//