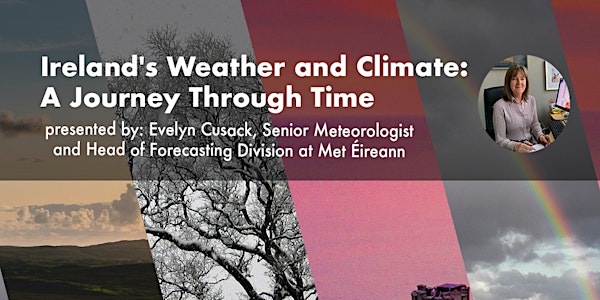 Ireland's Weather and Climate: A Journey Through Time
Evelyn Cusack, Senior Meteorologist and Head of Forecasting Division at Met Éireann joins us at DIAS for what promises to a fascinating talk
By Dublin Institute for Advanced Studies
Date and time
Wed, 1 Feb 2023 19:00 - 20:00 GMT
Location
Dublin Institute for Advanced Studies 10 Burlington Rd Ballsbridge Ireland
About this event
Evelyn will take us on the fascinating journey from the deep time of Snowball Earth (around 600 million years ago) to the birth of scientific weather forecasting and a look at present day observations, storm naming and forecasts, and plans for the future.
Evelyn will also address the 'spring controversy'.....Is St Bridget's Day the start of spring?
**********
Evelyn has over 30 years of experience in forecasting and broadcasting on TV and Radio. She is the current Head of the Forecasting Division in Met Éireann. She has an MSc in Physics (University College Dublin) and a BSc in Physics (University College Dublin)
Evelyn is the chair of the EUMETNET Storm Naming Group and is the NECG Forecasting Lead for Severe Weather Events. She is also the Met Éireann lead in the Department of Defence Be Summer and Be Winter Ready Campaigns.
She was awarded the UCD inaugural Science prize for Science Communication in 2014 and the European Meteorological Society Broadcast Meteorologist Award in 2018 for career in broadcasting and outreach in the public understanding of meteorology and climatology. Her Late Late Toy Show appearance in 2015, where Evelyn met Johnny was a highlight of her long TV career.
**********
Please note: 10 Burlington Road is a protected structure, with steps to the front door. Unfortunately the building is not accessible to users of modern wheelchairs.
About the organiser
The Dublin Institute for Advanced Studies (DIAS) conducts advanced studies exploring big questions of the 21st century and beyond. Its research gains insights into Celtic society and its legacy; progresses our understanding of our island, our planet and the universe; and deciphers the underpinning mathematical principles of nature.
The Institute leads Ireland's participation in a number of international and global initiatives that focus on big unanswered questions for mankind.
When it was founded in 1940, DIAS was the world's second-only institute for advanced studies – and the first such institute in Europe. For 80 years, it has pushed the boundaries of discovery and, today, it is a globally-embedded institution that attracts high-calibre researchers from all over the world in its core disciplines of Celtic Studies, Theoretical Physics, Astrophysics and Geophysics. DIAS Dunsink Observatory is a designated European site of historical significance for physics.