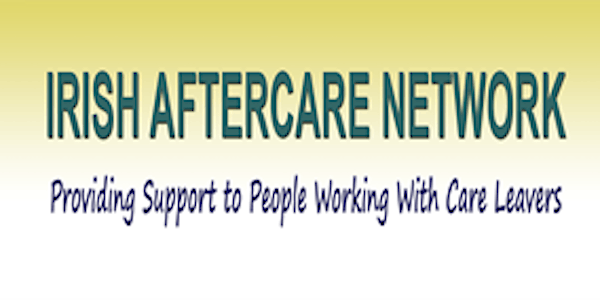 Irish Aftercare Network Webinar Series,12th Nov and 10th Dec
The Irish Aftercare Network would like to invite members to a complimentary series of live webinars on Zoom.
By Irish Aftercare Network
About this event
'Beyond the Pandemic - Preparing for What is to Come'
We welcome all members to a series of three live webinars.
Date: Friday 15th October 2021
Date: Friday 12th November 2021
Date: Friday 10th December 2021
Please note the following:
Members may wish to book one, two or all three webinars. Please book each webinar separately.
A complimentary delegate pack will be sent to the first one hundred members who register.
Webinar 1
Date: Friday 15th October 2021
Time: 10am -12pm
Title: Adolescent Mental Health Beyond The Pandemic
Presenter: Bronagh Starrs, Adolescent Psychotherapist, Programme Director MSc Adolescent Psychotherapy DCTC, Dublin.
Join Bronagh Starrs, internationally renowned psychotherapist, trauma specialist, academic and author for this webinar which will focus on the impact of being a teenager during covid times. We will explore the developmental implications, in particular focusing on the amplification of anxious presentation in adolescents. Participants will understand the ways in which specific personality types have responded to the experience. A trove of helpful strategies will be offered to support the developmental process and address symptoms.
About the Presenter: Bronagh Starrs is Programme Director for the MSc Adolescent Psychotherapy in Dublin Counselling & Therapy Centre in partnership with University of Northampton and Founder & Director of Blackfort Adolescent Gestalt Institute. She maintains a private practice in Omagh, Northern Ireland, as a psychotherapist, clinical supervisor, writer and trainer, specialising in working with adolescents, emerging adults and their families. Bronagh is an adolescent development specialist and has considerable experience as a trainer in adolescent development and therapy throughout Ireland. She also teaches and presents internationally on the developmental implication of trauma on the adolescent journey. Her recent publication Adolescent Psychotherapy - A Radical Relational Approach (Routledge, London) has received international acclaim. Blackfort Adolescent Gestalt Institute | Faculty (blackfortinstitute.ie)
Webinar 2
Date: Friday 12th November 2021
Time: 10am -12pm
Title: Recovery and growth; Understanding individual stress and trauma responses in the context of collective trauma .
Presenter: Aoife Bairéad, Independent Social Worker.
Aoifes talk will consider how Covid impacted our work and professional capacity over the past eighteen months. It will contemplate what strengths, patterns and newfound skills we want to bring forward with us as we move beyond restrictions and limitations in our work, and take time to reflect on how we can offer ourselves and others compassion and patience as we recover collectively from this experience.
About the Presenter : Aoife Bairéad is a qualified social worker who specialises in attachment and trauma informed work with children and families. Since she began her career Aoife has been working with children experiencing mental health difficulties including infant mental health, and those who have experienced separation, loss and trauma. In 2018 Aoife set up Minds in Mind, a service providing assessments and therapeutic support for children and their families. Aoife works with those impacted by bereavement, parental alienation, gun and gang violence and children who are adopted, in foster care or residential care. Aoife uses evidence informed assessment and interventions to empower families to find ways to improve children and their family's day to day lives. Minds in Mind
Webinar 3
Date: Friday 10th December 2021
Time: 10am -12pm
Title: Low Intensity Practical Psychotherapeutic Interventions for Aftercare Workers
Presenter: Edna Murphy MA, RGN, RPN,RN, Dip, REBT, MCBPI, MICP, MEAP, Cognitive Behaviour Therapist.
Enda will focus on giving Aftercare workers appropriate CBT skills that they can use in their practice to help clients overcome the most common mental health difficulties in transitioning to independent living. Participants are invited to bring actual case problems where strategies can be discussed in overcoming these problems.
About the Presenter: Enda is one of Ireland's best known Psychotherapists. He is a best-selling author, international speaker and well-known from his regular radio appearances. From his own experience of having Attention Deficit Hyperactivity Disorder (ADHD) Enda has a unique insight into mental health and the difficulties we all face in learning to cope with life on life's terms. He is founder of "SeeMe.ie. Supporting adults support young people". Emotional First Aid Training for Parents, Teachers and Community Leaders. Broadcasting Columnist on 'The Hard Shoulder', Newstalk radio (Aug 2020- To date).Broadcasting Columnist on 'Today 'programme, RTE radio (Aug 2014 – To Date), Ireland's largest radio current affairs programme. Co-Author of bestselling book 'Flagging the Screenager, Guiding your child through adolescence and young adulthood. (Number 3, Irish Times best sellers list. 2014).
*This is a members only event. There is no cost to become a member and membership is open to those who work directly or indirectly with care leavers. To become a member of the Irish Aftercare Network please click the link https://www.irishaftercare.com/membership-form/
Thanks to our sponsors - Department of Children, Equality, Disability, Integration and Youth & ESB Energy for Generations Fund.
Breaking Through CLG under The Scheme to Support National Organisations is funded by the Government of Ireland through the Department of Rural and Community Development.