Gala Dinner and Awards Ceremony celebrating Irish Cheese on Tuesday 9th November in Killruddery.
About this event
Note that Cáis members can avail of a discounted ticket price of €75 per ticket. Please check correspondence for your discount code or contact Cais to review.
CÁIS, the Association of Irish Farmhouse Cheesemakers, is delighted to present the 2021 Irish Cheese Awards! The Awards ceremony will take place on Tuesday 9th November in the beautiful surroundings of Killruddery in Bray, Co. Wicklow.
The Awards will be held in the Grain Store Restaurant, in the former Victorian courtyards of Killruddery
The ceremony begin with a drinks reception in the Courtyard at 6:30pm, with presentation of awards from 7:30pm. Guests will go on to enjoy a meal prepared with the best of Irish produce, much of it grown or reared on Killruddery Farm. Our MC for the evening is Chef, food writer and co-founder of Ballymaloe Cookery School, Rory O'Connell. We are delighted to have Minister for Agriculture, Food and Marine, Charlie McConalogue as Keynote speaker at the awards.
This is the ninth Irish Cheese Awards, and is the only competition dedicated entirely to Irish cheese. The awards are a biennial event and entries are open to all cheese producers on the 32 counties of the island of Ireland. The cheeses are judged across 16 different classes beforehand by a panel of cheese and food experts.
This is a black tie affair, however you won't be turned away as long as you've made just a little bit off effort to dress up to celebrate Irish Cheese!
See below for details of directions and local accommodation.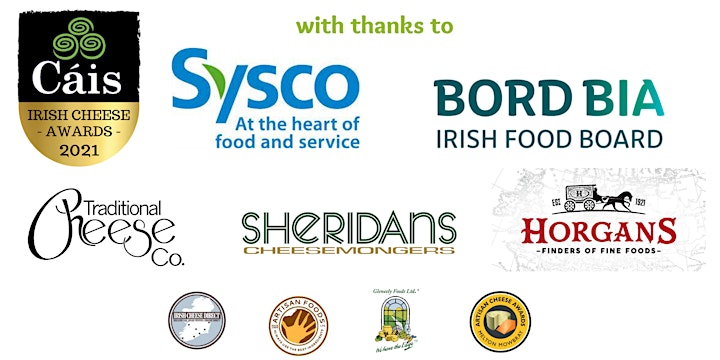 Parking is available free at the venue.
If accessing via public transport, the easiest method is via Dart to Bray, and taxi thereafter (10 minute drive). Local bus services are also available with a short walk at either end.
Convenient accommodation is available just across the road from the venue at the Wilton Hotel who will provide you with a special rate when booking directly via phone.
The Glenview Hotel is a 10 minute drive away and there are also a number of options for guesthouses and other hotels within a similar distance.
Details of competition View More Details on The Cais Website
Organiser of Irish Cheese Awards 2021
Cáis was established in 1983 as a community of Irish Cheesemakers to collaborate on a variety of issues important to the farmhouse cheesemaking sector. The association is proud to be the organiser of The Irish Cheese Awards since its inception in 2010. The purpose of the competition is to highlight the achievements of Ireland's cheesemakers, continue to increase quality in our sector and celebrate our achievements together.