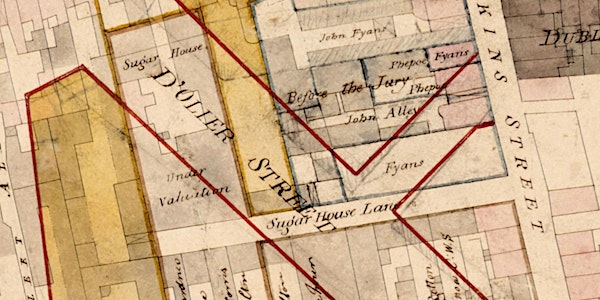 Irish Cities in Georgian Era Lecture Series
Irish Cities in the Georgian Era - Belfast, Cork, Derry, Drogheda, Dublin, Kilkenny, Limerick and Waterford
Refund Policy
Contact the organiser to request a refund.
About this event
To coincide with the publication of Professor David Dickson's 'The First Irish Cities: An Eighteenth-Century Transformation' (Yale University Press, 2021), the Society presents a nine-week online lecture series exploring the architecture and urban morphology of the Irish cities of Belfast, Cork, Drogheda, Derry, Dublin, Kilkenny, Limerick and Waterford during the long eighteenth century. Speakers to include Professor David Dickson, Dr John Montague, Dr Judith Hill, Dr Aisling Durkan and Frank Keohane.
Tuesday 5th October 2021 "Prodigious growth": The transformation of Irish cities in the eighteenth century by Professor David Dickson
Tuesday 12th October 2021 'What was urban design in the 18th-century? The Wide Streets Commissioners in Dublin as case study' by Dr John Montague
Tuesday 19th October 2021 'A city of three towns': Limerick 1760–1837 by Dr Judith Hill
Tuesday 26th October 2021 'A large, handsome town': Drogheda's architecture in the long eighteenth century by Dr Aisling Durkan
Tuesday 2nd November 2021 'A Merchant City': The Building and Buildings of Georgian Cork by Frank Keohane
Tuesday 9th November 2021 '18th Century Waterford': People, Place and Prosperity by Eamonn McEneaney and Julian Walton
Tuesday 16th November 2021 'Kilkenny': Faded Grandeur but Provincial Decency by Dr Hugh Maguire
Tuesday 23rd November 2021 'A large, populous and beautiful town'?: Belfast in the Eighteenth Century by Professor Raymond Gillespie
Tuesday 30th November 2021 'City of Derry': From Siege to Survey by Dan Calley.
Irish Cities in the Georgian Era talks are supported by the Department of Housing, Local Government and Heritage and The Heritage Council.