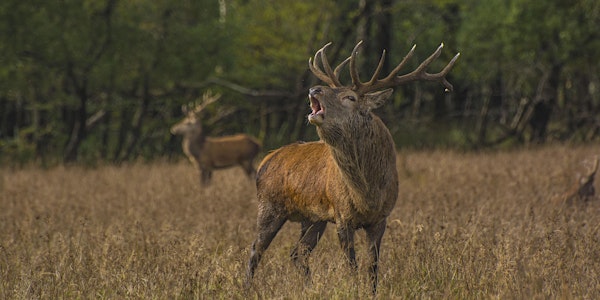 Irish Deer Commission Red Deer Rut Watch Event, Killarney National Park
The breeding season for wild deer known as the "rut" is one of the highlights of the wildlife calendar
When and where
Location
Killarney National Park Killarney Killarney National Park Ireland
About this event
Join the Irish Deer Commission on their Red Deer Rut Watch event in Killarney National Park, County Kerry on Sunday October 9th. The breeding season for wild deer known as the "rut" is one of the highlights of the wildlife calendar as stags roars out to their competitors and battle like gladiators for the right to breed with females. This amazing spectacle has taken place in County Kerry continuously for over 5,000 years and Killarney National Park is acknowledged as one of the best locations in Europe to observe the red deer rut.
This event is kindly hosted by the National Parks and Wildlife Service and is free of charge. The walk takes place at the peak of the red deer rut on Sunday October 9th.
Booking is available online only, places are limited and subject to confirmation, so make sure to book early!
The event is family friendly event and suitable for all fitness levels, with no specialist clothing required. There will be talks by a Conservation Rangers and the Irish Deer Commission, along with a display of native red deer antlers.
Important! Do not attend this event unless you receive confirmation – otherwise you will not be admitted to the event.
Those registered for the event will receive further details by email closer to the event date.
We have several other free member events taking place in the coming weeks - details to follow.
Irish Deer Commission
info@irishdeercommission.ie
If you are not an Irish Deer Commission member you are welcome to apply to become a member online on the following link and support our work. Ordinary annual members is €20 and family membership €25
http://irishdeercommission.ie/product/membership/
Follow us on Twitter or Facebook
Website: www.irishdeercommission.ie