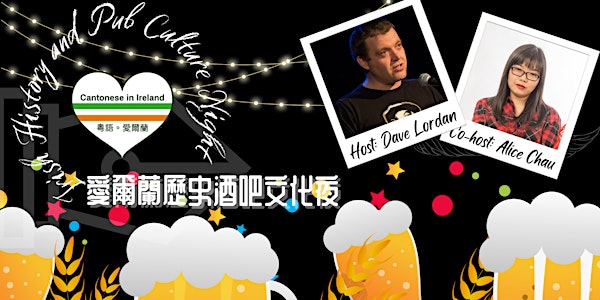 Irish history and pub culture night
an authentic Irish experience to help you integrate to the local culture
When and where
Location
The Cobblestone 77 King Street North D07 TP22 Dublin Ireland
Refund Policy
Contact the organiser to request a refund.
About this event
Event: Irish history and pub culture night
Date: 21-10-2022 (Friday)
Time: 8 to 10pm
Venue: The Cobblestones (77 King St N, Smithfield, Dublin, D07 TP22)
Fee: €15 per person (snacks included but not drinks)
Details: Immerse into the world famous Irish pub culture and learn Irish history while having fun - quiz, poetry, drinking songs, an authentic Irish experience to help you integrate to the local culture.
Host: Dave Lordan, a renowned Irish poet, historian, writer, teacher, and political activist. Graduate of Trinity College Dublin, he has written 4 acclaimed books & has 20 years experience in creativity education & cultural programme design.
Co-host: Alice Chau, Vice Chairperson of Cantonese in Ireland, producer and presenter for radio show "Asian Talents" at NearFM. She will provide Cantonese translation and answer any cultural questions.
Others: Irish Volunteers will be ready to assist. Feel free to ask questions!
Let's get ready for the night! Don't hesitate to register!
活動名稱︰愛爾蘭歷史酒吧文化夜
日期︰十月二十一日 (星期五)
時間︰晚上8 至 10時
地點︰The Cobblestones (77 King St N, Smithfield, Dublin, D07 TP22)
費用︰每位15歐。包小食。為鼓勵各人活學用,收費不含飲品,同學需自行買飲品。
活動詳情︰
- 學習愛爾蘭酒吧潛規則
- 了解愛爾蘭歷史及社會禁忌
- 了解愛爾蘭式幽默及吹水文化
- 親身體驗愛爾蘭人飲酒時進行的活動,例如:吟詩、唱飲酒歌、問答遊戲等等。
主持︰
Dave Lordan,著名愛爾蘭詩人、歷史學家、作家、教師及政治活躍份子。Dave 畢業於都柏林聖三一大學,他出版的4本書籍廣受好評,他於創意教育及文化項目設計方面擁有20年經驗。
副主持及翻譯:Alice 係粵語愛爾蘭嘅副主席,亦係愛爾蘭唯一一個粵語電台節目NearFM「亞洲愛才」嘅監製及節目主持人,佢為我哋提供粵語翻譯及協助解答任何關於愛爾蘭文化嘅問題。
其他:愛爾蘭義工亦會協助解答各類愛爾蘭文化生活問題。
呢個活動可以幫你投入了解愛爾蘭生活,唔好錯過,快啲報名啦!