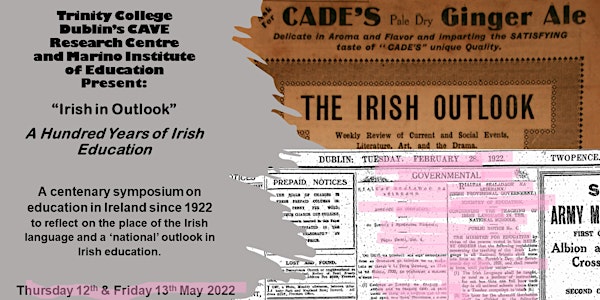 Irish in Outlook: A Hundred Years of Irish Education
Event Information
Location
Arts Building, Trinity College Dublin
College Green
Dublin 2
Ireland
A centenary symposium to celebrate and reflect on a hundred years of Irish education since the creation of the State.
About this event
Trinity College Dublin's CAVE Research Centre and Marino Institute of Education are cordially inviting all to a symposium to mark the centenary of the publication of Public Notice No. 4 "Concerning the Teaching of Irish Language in the National Schools" on 1 February 1922. Effective as of St Patrick's Day of the same year, with this announcement the provisional government of the Free State placed the Irish language at the centre of their vision of education in the Free State. The subsequently published First National Programme for Primary Instruction further consolidated the centrality of Irish as well as the 'Irish Outlook' of education in the State, in line with the priorities of a government looking ahead to a postcolonial future.
To celebrate and reflect on the impact of this momentous change in Irish education, the symposium will explore all aspects of the place of the Irish language and an Irish 'national' outlook in education, training, and educational policy in Ireland in a broad sense.
Keynote speakers:
Prof. Teresa O'DOHERTY (President of Marino Institute of Education), Schooling in the Gaeltacht 1922-2022
Prof. Muiris Ó LAOIRE (Munster Technological University), Ról na scoileanna san athneartú teanga: Féidearthachtaí agus dúshláin (The role of schools in language revitalisation: Opportunities and challenges)
Session speakers and titles:
Claire DUNNE, Early Periods in the Teaching of Irish: Remembering, Misremembering and Forgetting
Áine HYLAND, Buntús Cainte – Cúlra agus Rath: Buntús Cainte – its background and success.
Colm MAC GEARAILT, 'Heritage' or 'History' teaching? Irish history in secondary schools, 1922-69
Neasa NÍ CHIARAIN, An Scéalaí: Foghlaim (Ríomhchuidithe) na Gaeilge
Aoife NÍ GHLOINN, An Fráma Tagartha Comónta Eorpach: Dearcadh Eorpach ar an gcumas Gaeilge
Tracey NÍ MHAONAIGH, Solas sa Dorchadas: An tAthair Eoghan Ó Gramhnaigh agus Coláiste Phádraig, Maigh Nuad
Méabh NÍ SHLÚAIN, Taithí foghlama teanga fhoghlaimeoirí na Gaeilge ag an tríú leibhéal
Ríona NIC CONGÁIL, Ná Coláistí Samhraidh, Múinteoirí Scoile agus an Saorstát
Caoimhe NIC LOCHLAINN , "Anáil na scoile": An Gúm, schoolchildren and the general public
Kerron Ó LUAIN, 'Ar aon chéim le aon phobal fud fad na tíre, fud fad an domhain': Gluaiseacht na Gaelscolaíochta san fhichiú haois agus meon folaithe an díchoilínithe
Gearóidín UÍ LAIGHLÉIS, A Great Dearth of Irish Books
Nicole VOLMERING, Gaelicisation, Access, and Distance: Ambivalent Attitudes to Irish Script
John WALSH, 'Reform the Training Colleges at the foundation…': the foundation of the Preparatory Colleges and their ideological mission in the Irish Free State.
Tom WALSH, From subordinate to pre-eminent: Irish language curriculum policy for primary schools in the 1920s
Download the Programme from the School of Education website.
Date and time
Location
Arts Building, Trinity College Dublin
College Green
Dublin 2
Ireland