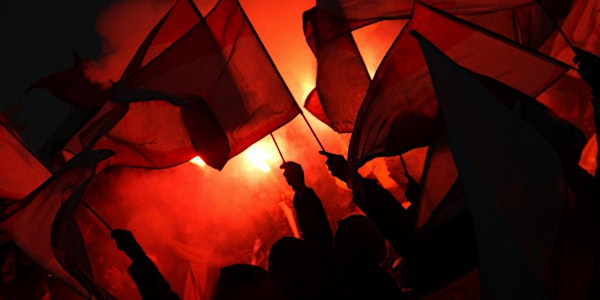 Irish Security Series #23: Extremism and Extremist Groups - Part_2
Extremism and Extremist Groups - their potential threat in an Irish Context - Part_2 - Responding to Extremism
About this event
Extremism and extremist groups - their potential threat in an Irish Context Unwrapping a layer at a time
There is much debate and little consensus as to what extremism is; in fact, many accept that as a term it is multivalent. This makes it hard, if not impossible, to define, but despite this, narratives, and rhetoric about extremism (at least certain types) are often framed around opinions or positions of certainty, clarity, and conviction. These two contrasting views create a situation that is hard to traverse. If you cannot define something, how can one identify it or measure it; or in contrast, if one can clearly define it, then what do you do with other examples that look fairly like your definition but not exactly like it. This raises the question; whether we need a host of different terms, so we all fully understand what we are talking about when we speak of 'one of these groups'.
Trying to bridge this gap between these two positions can often go one way; downhill. But it does not have to, and this is what inspired our next Irish Security Series events. We want to create an opportunity for an open discussion to take place, that seeks not to define extremism or extremist groups as a homogeneous group, nor to give a formula for one to use to determine what is or is not extreme, but rather to demonstrate the complex groups that have acquired the label of extreme in some contexts, and to delve a little further into what threats they might pose; how they may engage to heighten that risk, and what responses may be appropriate and effective in reducing associated risks.
Part 2 | 26th May  | Extremism and extremist groups - Responding to Extremism
The second event will draw on the knowledge and discussion gleaned in the first event and will attempt to highlight ways to respond to extremism and related groups, looking beyond the criminal justice system to see if other methods may be more impactful.
Speakers( Part 2): (more to follow)
Dr Shaun McDaid | Senior Lecturer in the Division of Social Sciences, University of Huddersfield.
His research interests lie in the fields of political violence, radicalisation, and (counter)extremism. He is especially interested in the impacts of counter-radicalisation initiatives in higher education environments.
Dr Catherine McGlynn | Senior lecturer in politics at the University of Huddersfield. Her research focuses on conflict resolution and counterterrorism with particular focus on party politics in Northern Ireland and counter-radicalisation strategies in the UK and elsewhere.
Miraji Hassan Mohamed | PhD Candidate at the School of Law & Government in DCU.
Her research interests lie in the area of political violence, radicalisation, and preventing/countering violent extremism. Her PhD project focuses on the discourses on radicalisation in Kenya, how these discourses construct youth identities and determine how are engaged in P/CVE.
Dr Kiran Sarma |Deputy Head of the School of Psychology, NUIG
He is a Chartered Psychologist, Forensic Psychologist & Psychotherapist. He is also a Senior Lecturer in Psychology at the School of Psychology, National University of Ireland Galway, Galway, Ireland.
Moderator: Ms Sheelagh Brady - Senior Analyst SAR Consultancy
Sheelagh has 20 years of experience in policing and security. She began her career with An Garda Siochana, where she worked for 14 years. She then moved to the international security arena, holding positions such as, Mission Security Analyst with the European Union Border Assistance Mission in Libya, Senior Security Information Analyst, with UNDSS in Abuja Nigeria, and Analyst with the European Union Police Mission in Bosnia Herzegovina (BiH). In 2014, she co-founded SAR, where is holds the position of Senior Analyst. SAR provides security related research services, specialising within the fields of Terrorism, Organised Crime and Corruption, whilst also providing risk management services. She is currently undertaking a PhD at Dublin City University (DCU).