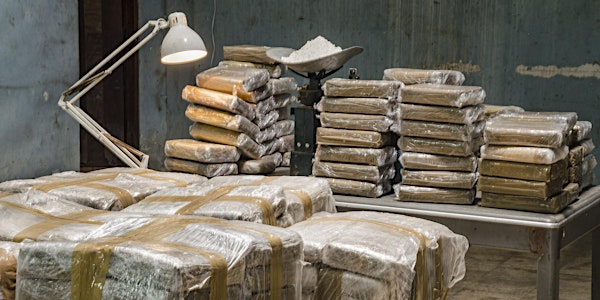 Irish Security Series #25:Trafficking Drugs Into and Between the UK and IRL
Drug trafficking is the most profitable illicit enterprise available to illicit entrepreneurs and organised crime groups.
About this event
Trafficking Drugs Into and Between the UK and Ireland
This event is sponsored by the British Embassy in Dublin and co-hosted with UCC - Department of Sociology and Criminology
This event will have Irish Sign Language provided.
Drug trafficking is the most profitable illicit enterprise available to illicit entrepreneurs and organised crime groups. Illicit drug distribution chains are complex. Before any drug reaches Ireland or Great Britain it will likely have passed through several stages, including: the diversion of precursor chemicals, the cultivation of crops, manufacture of drugs and then smuggling across national and international borders. Smuggling can be high- or low-tech, depending on the local environment, volume of drugs being smuggled and the traffickers' resources. Many traffickers are adaptive and innovative entrepreneurs.
National and global markets for drugs are, however, ever changing. Illicit markets respond to: pressure from law enforcement, consumer demand, supply issues, the development of new drugs, changes to licit economies and licit trade routes, and the introduction of new technology. The internet, for example, has significantly altered how drug markets operate. Drug cultivation products are sold on the surface web, drugs are advertised on social media and sold on crypto-markets.
This seminar will explore the markets for drugs within and between Ireland and the UK. Both islands are major consumer markets, having amongst the highest prevalence rates in the Global North for some drugs, and some of the highest rates of drug-related deaths and injecting drug use.
While both countries are primarily destination markets, illicit drugs are moved within, and between, the two countries. There are also significant levels of co-operation between traffickers based in Ireland and Great Britain, and increasingly elsewhere in Europe.
The panel will explore the distribution of illicit drugs into, and within, Ireland and Great Britain, paying attention to how the two markets are changing and adapting.
Speakers:
Nicki Killeen - HSE, National Social Inclusion Office
Nicki Killeen is a Project Manager in the HSE National Social Inclusion Office with responsibility for improving knowledge and responses to emerging drug trends and new user groups, such as those who use in nightlife settings. Nicki also coordinates harm reduction and drug communication projects for the Drugs.ie website.
Nicki holds a BA in Social Science and Master's in Addiction Studies and is currently undertaking a Certificate in Advance Drug Policy Management with the Pompidou Groups International Drug Policy Academy. Nicki has 10 years' experience working within a harm reduction framework for different cohorts who use drugs, with particular interest in subcultural use, use within nightlife settings and substance analysis to monitor trends. Nicki is a member of the Early Warning and Emerging Drug Trend (EWET) National Working Group and recently coordinated the Emerging Drug Trends and Drug Checking Working Group who reviewed the evidence in relation to novel harm reduction and drug monitoring responses.
Dr Robert McLean - Criminal Justice Lecturer - University of the West of Scotland.
Dr McLean's expertise primarily concerns gang violence and organised criminal activity within the United Kingdom. This includes topics such as drug supply and drug harms, county lines drug dealing, money laundering procedures, robbery, violence and exploitation. Recent publications include 'Gangs, Drugs and Disorganised Crime', 'Scotland's Gang Members: life and crime in Glasgow', 'Robbery in the Illegal Drugs Trade: Violence and Vengeance'.
Angela Willis – Detective Chief Superintendent – An Garda Síochána
Angela Willis is a detective chief superintendent in the Garda National Bureau of Criminal Investigation (GNBCI) where her remit involves responsibility for complex and sensitive criminal investigations at a national level, including those with an international dimension, in addition to supporting investigations undertaken at a regional and divisional level throughout the state. The GNBCI is also tasked with undertaking a review of particular investigations including those with a historical or cross border dimension.
Angela has over thirty years policing experience having served in a number of roles including frontline policing in Dublin and the Northern Region, superintendent at Operational Support Services, the Garda National Immigration Bureau, Serious Crime Review Team and head of bureau at the Garda National Technical Bureau and Garda National Drugs and Organised Crime Bureau prior to taking up her current role.
Angela holds a Masters in Serious Crime Investigation, a BA (Honours) in Police Management, a Professional Certificate in Governance and a certificate in Policing and Human Rights Law in Ireland. Angela successfully completed the Strategic Command Course with the College of Policing in the UK.
Moderator: Ms Sheelagh Brady - Chief Analyst SAR Consultancy
Sheelagh has 20 years of experience in policing and security. She began her career with An Garda Siochana, where she worked for 14 years. She then moved to the international security arena, holding positions such as, Mission Security Analyst with the European Union Border Assistance Mission in Libya, Senior Security Information Analyst, with UNDSS in Abuja Nigeria, and Analyst with the European Union Police Mission in Bosnia Herzegovina (BiH). In 2014, she co-founded SAR, where is holds the position of Chief Analyst. SAR provides security related research services, specialising within the fields of Terrorism, Organised Crime and Corruption, whilst also providing risk management services. She has a PhD from Dublin City University (DCU).