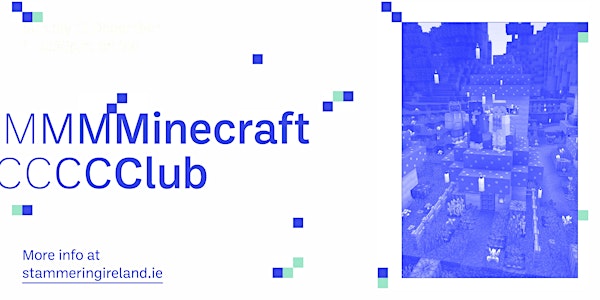 Irish Stammering Association Minecraft Club
The Irish Stammering Association Minecraft Club for young people who stammer to connect, build and play in creative mode!
By Irish Stammering Association
Date and time
Thu, 22 Jun 2023 10:00 - 11:00 PDT
About this event
The Irish Stammering Association Minecraft club is a social activity for young people who stammer to meet up and play Minecraft Bedrock in Realms. The club plays in creative and peaceful mode in a private world, building new creations and working on group projects.
You can join our game world from any device: XBox, PlayStation, Nintendo Switch, PC laptop, iPad or tablet. Unfortunately Minecraft Bedrock is not available on iMac.
We play Minecraft Bedrock edition and ISA hosts the Realm. You don't need a subscription to Realms, just a copy of Minecraft Bedrock!
Please note - to access our club world game in realms from a console, you will need the online game pass e.g. Xbox game pass or PS Plus or Switch Online. If you join Realms from a tablet, iPad, PC or laptop then you don't need anything else extra.
While we play Minecraft, we use Zoom for the voice chat. You can join in with the chat as much or as little as you like. If you are a pro Minecrafter that's awesome and you'll be able to show off your skills. If this is a new game for you, we'd love to show you how creative mode works and teach you some cool new building skills!
After you register, we will send you instructions to get you set up as a member in our Realm before the club night so you're ready to play!
If you have any questions, please get in touch with Penny at pf@stammeringireland.ie.
Would you like a tour of our club? Listen to club member Brady as he gives a tour of the club's creations so far!
ISAYiT! Minecraft Club Tour April 2023 by Brady
Your creations could be in the next video tour - join the club and build your house at the club base, help to finish off the wizarding area, find secret builds in the Nether or start a new project!