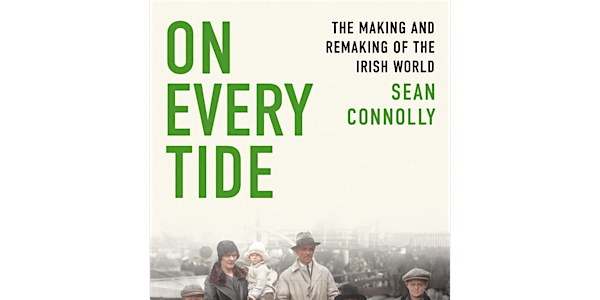 Irish Studies Seminars: Booklaunch of 'On Every Tide'
Booklaunch of 'On Every Tide: The Making and Remaking of the Irish World' by Sean Connolly.
When and where
Location
Institute of Irish Studies, Queen's University Belfast 27 University Square Belfast BT71NN United Kingdom
About this event
'On Every Tide' will be launched by Dr Sophie Cooper, Lecturer in Liberal Arts at QUB and author of 'Forging Identities in the Irish World: Melbourne and Chicago, c.1830-1922' (Edinburgh UP, 2022).
ON EVERY TIDE is a wide-ranging and challenging reassessment of the Irish diaspora. Drawing on the latest ground-breaking research, and his own career-long engagement with the complexities of Irish identity, Sean Connolly reveals the forces that compelled millions of Irish men and women to abandon their homeland, and explores their new lives in America, Canada, Australia, New Zealand and elsewhere.
What emerges is an Irish story, but also a chapter in world history. Irish emigrants fled a society blighted by poverty and lack of opportunity. But they also became part of a massive population movement, driven by the requirements of an ever more interconnected world economy, that transported the adventurous and the desperate to new parts of the globe. What distinguishes the Irish from tens of millions of other European immigrants is the position they established in their new homes. Initially treated as a despised and exploited underclass, they created a commanding position, in politics, in the labour movement, and, by the twentieth century, as cultural icons
From his starting point in the grim realities of Famine and social crisis, Sean Connolly takes the reader forward into the twentieth century, when Ireland itself has become a receiver rather than an exporter of emigrants, and when a reimagined Irishness has become a commodity to be marketed to a global audience. On Every Tide plays directly into wider, contemporary debates about migration, as well as offering a unique and distinctive view of two hundred years of Irish history.
Sean Connolly, MRIA, FBA, is Professor Emeritus of Irish History at QUB and an Associate Fellow of the Institute of Irish Studies.
This seminar will be both in-person in 27 University Square and online via Teams (drinks only available to those attending in person!).