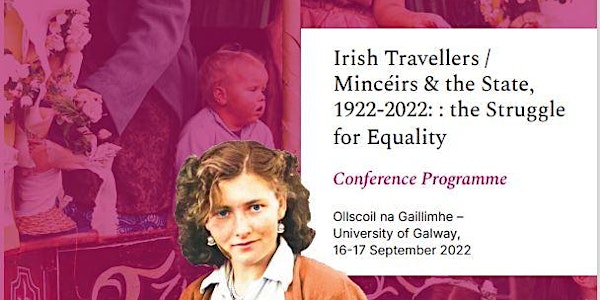 Irish Travellers / Mincéirs & the State, 1922-2022
Irish Travellers / Mincéirs and the State, 1922-2022
When and where
Location
Aula Maxima Quadrangle University of Galway Galway Ireland
About this event
This two-day conference will examine Irish Travellers' experiences of discrimination since the foundation of the state, paying particular attention to the state's role in perpetuating disadvantage. It will be a multi-disciplinary and participative conference, with presentations in a variety of formats, and featuring local, national and international perspectives. There will be contributions from Traveller / Mincéir activists and advocates, historians, folklorists, psychologists, sociologists, artists, cultural theorists and others.
EVE OF CONFERENCE:
THURSDAY, 15TH SEPTEMBER
8.30-9.30 pm: The Cube, Áras na Mac Léinn
Drama Performance:
'Ireland Shed a Tear' with Michael Collins The Carrickmines tragedy brought a public outpouring of grief, and, it seemed at the time, a lot of soul searching about the way Travellers are treated by mainstream society and the state. People lined the streets during funerals. Politicians and religious leaders wrung their hands. Newspapers gave blanket coverage. But it was no wake-up call, Michael Collins now wryly observes. It did not reset a dysfunctional relationship.
Registration
If you wish to attend the Drama Performance in the Cube on Thursday, 15th September 8.30-9.30p, please register HERE.
DAY ONE:
FRIDAY 16TH SEPTEMBER
9.00-9.30: Conference Opening in Aula Maxima
NB: Sessions will be in Aula Maxima unless otherwise stated
Official opening by Mags Casey, introduced by Helen Maher, VP for Equality, Diversity, Inclusion, University of Galway
Hallvard Gorseth, Head of Anti-Discrimination Department and Roma and Travellers Team, Council of Europe
9.30-11.00 Keynote Panel 1: Language, Culture and Heritage
Aoife Bhreatnach, Robbie McVeigh, Rosaleen McDonagh, and Oein DeBharduin.
Chair: Patrick Nevin
11.00: Coffee/Tea Break
11.30-12.50: Keynote Panel 2: International Context
Martin Collins, Owen Ward, Alen Tahiri and Oana Taba.
Chair: Anastasia Crickley
12.50-14.00: Lunch and Exhibitions
13.30: Exhibitions
Photographic exhibitions which will run during the conference in the Hardiman Building: 'The Children of
Carrowbrowne' by Tamara Eckhardt (co-curated by the photographer and the Galway City Museum); 'Crown – Hair and Identity in Traveller Culture' by Breda Mayock and Orla Sloyan. Derek Speirs' exhibition, '30 Years of Traveller Struggle' will be displayed in conference venues.
14.00-15.30 Spotlight Panels in Hardiman Building, G010, G011 and Bridge Room
14.00-15.30 Spotlight Panel 1a: Law and Justice
Chair: Daniel Savery
Amanda Haynes, Sindy Joyce, Olive O'Reilly et al, The Relationship between Travellers and the Police as
Enforcers of Laws Criminalising Traveller Culture Heather Rosen: The need for Audio-Recording in Hearings for Equality Investigations
Cristian Jura: Jurisprudence of National Council for Combating Discrimination in Romania
14.00-15.30 Spotlight Panel 1b: Histories and Experiences
Chair: John Cunningham
Bernard Sweeney: Traveller History, Origin and Ethnicity
Ján Hero (COE): Good Practice in the Field of Roma Language, Education, Culture
Nicole Kelly: The Experiences of and Attitudes towards Irish Travellers in the Education System, 1963-2000
14.00-15.30 Spotlight Panel 1c: Creative Responses
Chair: Petra Neumann
Justin Carville, From Worlding to Life-worlding: Photography as Irish Traveller Heritage and History
Martin Beanz Warde, Traveller Wellbeing through Creativity
Dave Lordan et al, The Shuttleknit Project
15.30-15.50: Coffee/Tea Break
15.50-17.25: Keynote Panel 3: Accommodation
Nora Corcoran, Rory Hearne, Padraic Kenna, Emily Murtagh. Chaired by Bernard Joyce
20.15: Musical Performance from Trish Reilly in the Druid Theatre, Galway City
20.30: History Ireland Hedge School from the Druid Theatre, Galway City – Activism, Advocacy and Allyship
Rose Marie Maughan, Vincent Browne, Patrick Nevin
Chair: Tommy Graham
DAY TWO:
SATURDAY 17TH SEPTEMBER
9.30-10.00: Tea/Coffee
10.00-11.30: Spotlight Panels in Hardiman Building, GO10, GO11 and Bridge Room
10.00-11.30 Spotlight Panel 2a: Discrimination: reality and impact
Chair: Owen Ward
Mags Casey, Neasa Nic Dhomhnaill et al: The Psychology Of Oppression: Impact of Racism on Mental Health
Sarah-Louise Martin: Experiences of Discrimination Among the Irish Traveller Community
Michael Ward, Patrick McCann: Impact of Discrimination / Racism on the Traveller community in regards to mental health and addiction
10.00-11.30 Spotlight Panel 2b: Challenging Discrimination
Chair: Trish Reilly
Andrew Ó Baoill, Anne Boyle (RIP): Voice, Participation, and Visibility
Rohini Bannerjee: 'What's your Band Number, eh?' From Pahari Indian to Brahmin Bannerjee'
Anca Minescu et al: Identifying evidence-based methods to effectively combat discrimination of the Roma in the changing political climate of Europe: The Case of Irish Travellers in the Republic of Ireland 2019-2021
10.00-11.30 Spotlight Panel 2c: Remembering
Chair: Marian Spelman
Nora Corcoran, Kathleen Sweeney, 'Reimagining Life on the Road' A Traveller Community Mapping Project of Traditional Camp Sites in Galway City and County
Rachel McArdle, Michael Collins et al: A Travellers' Map of Coolock: Storied Places of Belonging and Unbelonging
Katie Blackwood, Archival material on Traveller Craftspeople
11.30-11.45: Coffee/Tea Break
11.45-13.00: Keynote Panel 4: Trauma and the Irish Psyche
Bernard Sweeney, Elaine Martin, A.N. Other.
Chair: Anca Minescu
13.00-14.00: Lunch / Performance
14.15-15.45 Spotlight Panels in Hardiman Building, GO10, GO11 and Bridge Room
14.15-15.45 Spotlight Panel 3a: Knowledge and Recognition
Chair: Anne-Marie Ward
Anne Marie Kavanagh; Caitríona Ní Cassaithe: 'Using Mincéir knowledge systems to think differently about the natural environment'
Séamus Nolan: Traveller Collection: Mobilising the Participation and Representation of Marginalised Communities within Museum and Cultural Institutions
Jack Loughnane (Migration and Diversity Lab Research Group): 'The challenges of engaging in research with and about Irish Traveller communities in Ireland'
Lina Vosyliūte et al: Transitional Justice and Roma
14.15-15.45 Spotlight Panel 3b: Initiative and Ambition
Chair: Mary Harris
Jason Sherlock, The Mincéir Whiden Society
Richard O'Brien: Travellers taking their place in the Church: Diocese of Kerry's ground breaking initiative
Mike Geraghty: "Born on the side of the road": Anthony McDonagh's story
14.15-15.45 Spotlight Panel 3c: Working and Living
Chair: Patrick Nevin
Paddy Daly: Recalling Hillside in 10 Pictures - People and Place
Lisa Connell: Trade union perspectives on Travellers' rights in the workplace
Tamás Szondy, Good practices in tackling territorial inequalities, with special regard to the Roma population – the cases of Hungary, Slovakia and Czech Republic
16.00-16.15: Special Guest – name to be confirmed
16.15-17.30: Keynote Panel 5: Education
Wendy Lee, Anne-Marie Ward, Shivaun Quinlivan.
Chair: Pat Dolan
17.30: Closing Address and Reception
The conference is part of the Government of Ireland's Decade of Centenaries programme and is supported by the Department of Tourism, Culture, Arts, Gaeltacht, Sport and Media. It originated in an initiative from Patrick Nevin and Elaine Martin, and is held under the auspices of the Irish Centre for the Histories of Labour and Class, Moore Institute, University of Galway. The Conference Steering Group acknowledge the participation of the Council of Europe's Committee of Experts on Roma and Travellers and the Department of Foreign Affairs, the Department of Children, Equality, Disability, Integration and Youth, and the Galway Council of Trade Unions
Conference Steering Group: Patrick Nevin, Elaine Martin, Owen Ward, Sarah-Anne Buckley, Mary Harris and John Cunningham
CONTACT:
Dr Sarah-Anne Buckley - sarah-anne.buckley@universityofgalway.ie
Dr John Cunningham - john.cunningham@universityofgalway.ie