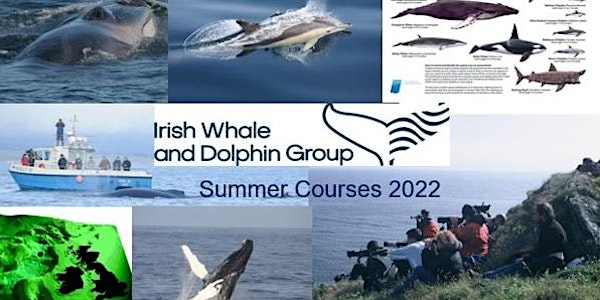 Irish Whale & Dolphin Group Weekend Whale Watching/Identification Course
Looking for a weekend with a difference...Why not join the IWDG on a weekend residential Whale Watching and species Identification course.
When and where
Location
CECAS, Myross Wood House, Leap, Co. Cork, P81 Y192 Myross Wood House Leap Ireland
Refund Policy
Contact the organiser to request a refund.
About this event
Title: IWDG Weekend Whale Watching/Identification Course
Venue: CECAS, Centre of Excellence for Climate Action & Sustainability
Where: Myross Wood House, Leap, Co. Cork, P81 Y192
Dates: May 27-29
Why not join the Irish Whale and Dolphin Group (IWDG) www.iwdg.ie, Ireland's leading marine conservation NGO, on a weekend whale-watching course in West Cork during summer 2022. By taking part you will be actively supporting whale and dolphin research and conservation in Ireland.
Our residential weekends (2 nights) based at the CECAS centre, Leap, West Cork www.cecas.ie, combine a relaxed learning experience at this former religious retreat, providing a unique opportunity to learn more about the 26 species of cetaceans that can be found in Irish waters. Your course facilitator and guide will be IWDG Sighting Officer, Pádraig Whooley, who has delivered similar weekend courses on Cape Clear Island since 2002. Suitable from ages of 18 years upwards, our courses cater for all levels of interest, from the complete novice to the wildlife enthusiast who'd like to learn more about Ireland's whales and dolphins, IWDG's recording schemes and how you can contribute to them, species identification, as well as the latest research.
Participants will attend a series of indoor presentations and guided land-based watches, during which you will learn the field-skills required to observe, identify and record these magnificent marine mammals. Incorporated into the weekend will be a whale watch boat trip with Cape Clear Ferrries, during which we will survey the rich offshore waters between Cape Clear Island and Galley Head. Boat trips are subject to weather and demand and are NOT included in the course fee.
The venue
These weekends are essentially residential and based at the CECAS Centre near Leap village. We envisage most participants booking this accommodation, which comprises a range of affordable and comfortable room options, some of which are En Suite. Set among 30 acres of woodland overlooking Glandore Harbour in the heart of West Cork, this historic former retreat is a peaceful, unique and magical place for tranquility, nature and relaxation, and is also convenient for Leap, Union Hall, Skibbereen, Glandore and beyond for restaurants, shops and leisure amenities. A great base for exploring this wonderful area on land or by sea. Of course, if you live locally or are on holidays in the area, then it's unlikely you'll want accommodation, which is not a problem, and in these cases a small fee for a light lunch and use of the facilities will apply (see below).
Course fee per person is as follows:
Course fee payable to IWDG
IWDG member (Incl. tuition, guided watches & materials) €75
Non- member (Incl. 1 yr standard membership worth €30, resource pack, tuition & guided watches) €100
Accommodation & food payable to CECAS
Residential (see below based on 2 nights, b/fast x2, lunch x1 & facilities) €100
Non-Resident (based on lunch x1 & facilities) €26
Optional Whale Watch trip, pay operator on day (Weather Permitting) €45
Optional Evening meal/BBQ at CECAS (weather permitting) €15
Places secured on receipt of course fee to IWDG (€75 or €100). Full refunds will be given in the event that IWDG has to cancel your course due to Covid-19 restrictions, or you have to cancel for related health reasons.
If planning on staying at the CECAS Ctr., once your course place(s) is booked and secured with IWDG, you should let us know the following:
• Number people your booking is for & names
• Contact email & mobile No. for person making booking
• Your room requirements: Type & No. rooms, and for how many nights @ CECAS
• Meal requirements @ CECAS (Breakfast €5, lunch €10 & Evening meal €15)
• Please note a €16 per person charge will apply to cover facilities over weekend
We will forward your details and requirements to CECAS, who will email you a funds request to cover accommodation and meals. So you are paying IWDG for the course fee and CECAS for everything else (excluding boat trip).
Room options and prices per room, based on a 2 night stay are as follows:
• 14x single rooms (max. 1 person), €64
• 6x twin rooms (max 2 ppl, 2x single beds) €90
• 4x double rooms (2 ppl, double bed) En suite, €120
• 1x family room (3 ppl), En suite, €120
• 1x family room (4 ppl), En suite, €120
Enquiries or further details, email padraig.whooley@iwdg.ie ,
Ph. 00 353 (0)86-3850568