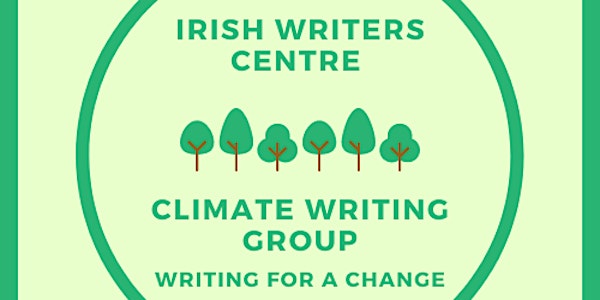 Irish Writers Centre Climate Writing Group: Writing for a Change Session 6
Please join us for the 6th session of the IWC Climate Writing Group: Writing for a Change, a very special edition with open mic performances
Refund Policy
Contact the organiser to request a refund.
About this event
The IWC is celebrating its 30th anniversary this year and we want to make an impact on our world going forward. Writing for Change is a series of information and writing sessions for a disparate group of writers.
The overall theme is awareness of the planet and encouraging writers to promote positive climate solutions in their work. Sessions will take place once a month for the duration of 2 hours and will be open to writers of every genre, not just those who write about climate change.
The guest speaker this month will be Dr Craig Jordan Baker in the first half, with an opportunity for attendees to present new work as developed during the writing sessions in the second half.
Lynn Buckle is a qualified adult education tutor whose fiction and poetry reflect on social themes. Her debut novel The Groundsmen was published by époque press in 2018, followed by several anthologies and literary articles. Lynn's second novel What Willow Says was published by epoque press in May. In it, she explores nature, landscape, and place from a disability perspective. Lynn is part of the world-wide Climate Writers movement, seeking to affect change through her fiction. She currently represents Ireland as a UNESCO City of Literature Virtual Writer in Residence 2021 at the UK's National Centre for Writing.
Dr Craig Jordan Baker is Senior Lecturer in Creative Writing and English Literature at the University of Brighton. A keen walker and forager, he is interested in the literary representation of landscape. Besides academic publications, Craig is also a widely performed playwright, and has work commissioned by the National Archives, The Booth Museum of Natural History, and the Theatre Royal, Brighton. His short stories and articles can be found in New Writing, Text, Firefly Magazine, Potluck etc. His debut novel The Nacullians was published in 2020 by époque press. Over the summer, Craig walked the River Bann from source to sea with Northern Ireland poet Cherry Smith, recording their eco journey. He joins the group to share his initial observations through literature, sound, and vision.