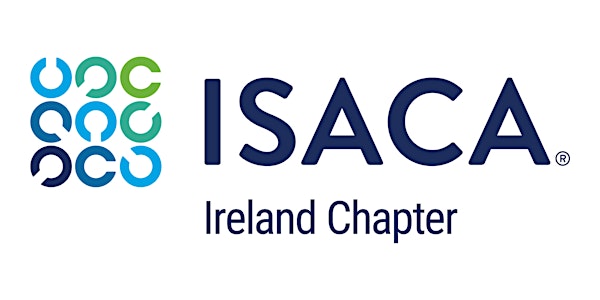 ISACA Ireland's February 'Last Tuesday' event
When and where
Location
Camden Court Hotel 84 - 87 Camden Street Lower Saint Kevin's D02 DH36 Dublin Ireland
Description
We have 2 great speakers for this month's Last Tuesday event - John Brady and Paul Hogan. Both of them are seasoned speakers, who have talked at previous ISACA Ireland events, including the 2019 Conference. So don't miss out on the February Last Tuesday event on the 25/02/2020
The agenda:
18:30 Registration and Networking with tea & coffee
(DOOR CLOSES AT 18:45)
18:45 Presentation 1
19:30 Presentation 2
20:30 Good Night
The Presentations
Here's to AI: the cause of and solution to all cybersecurity problems by Paul Hogan, Ward Solutions
As we see more and more AI powered cybersecurity solutions, will AI improve Cybersecurity, or will the technology eventually lead to our downfall.
Cybok – Risk Management and Governance - an Overview by John Brady
The cyber risk assessment area - A look at what risk is, why risk assessment is important, what is cyber risk assessment, risk governance and the human factors (security, culture and awareness) and finally looking at business continuity.
The Presenters
John Brady has over 20 years project and risk management experience delivering programs across a range of industries working with global and local organisations.
He has presented on Risk Management for ISACA and is a Specialist Risk Advisor to the Irish ISACA Risk Forum.
He has presented at several conferences over the last number of years on Risk Management - Cork, Letterkenny (keynote speaker), Limerick and at the annual ISACA conferences in Croke Park
Paul Hogan is a co-founder and the Chief Strategy and Innovation Officerr with Ward Solutions. As the CSIO with Ward Solutions, his role centres on keeping the company up to date with the latest technologies and product offerings in addition to driving new business development.
Paul manages the relationship with many of Ward Solutions partners, including IBM, HP-Aruba, Microsoft,Cisco, McAfee and Fortinet. Before working with Ward Solutions, Paul was founder and CEO of Emissary Technologies, which specialised in Web and mobile performance management solutions based in Campbell California.
Paul also served as Staff Officer Networking and Security with the Irish Defence Forces and CIO of the European Union Monitoring Mission in the former Yugoslavia.
Paul holds the Data Protection Practitioner Certificate; is Certified Information Security Auditor (CISA), Certified d in the Governance of Enterprise IT (CGEIT), C Certified in Risk and Information Systems Control (CRISC), Systems Security Certified Practitioner (SSCP) and Certificate in Cloud Security Knowledge (CCSK), as well as holding a range of sales and technical certifications from companies such as IBM, Microsoft, Fortinet, McAfee and Aruba