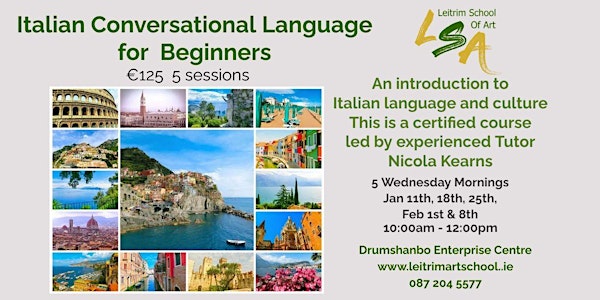 Italian for Beginners, 5 Wed Morn's,10am-12pm,Jan 11, 18, 25, Feb 1st & 8th
Italian for Beginners 5 Wednesday Mornings, starts11th Jan, Total €125: €30 deposit on booking, balance €95 payable on the first day.
When and where
Location
Drumshanbo Enterprise Centre Building C Hilly Road Drumshanbo Enterprise Centre Ireland
Refund Policy
Contact the organiser to request a refund.
About this event
This 5-session Wednesday morning course, suitable for absolute beginners, is an introduction to the Italian language and culture taught in an enjoyable and communicative way.
No previous knowledge of Italian is required and students are typically able to understand, speak and write simple texts within a few weeks.
The course is certified and students can follow up with the Intermediate course, to be advertised separately at a later date.
Please note the 'Deposit and Missed Classes Refund Policy' below
Italy has never been closer to Connaught as it is now, with many flights from Knock to Milan for €9.99. This is the time to learn a new language and take that longed for trip to Italy.
With our Italian Conversational for Beginners course you can now learn to order a meal, write, read and speak basic Italian within 5 weeks. Tutor Nicola has a Degree in Italian, but as she says herself, she found it very difficult to learn from an Italian speaker. 'They spoke too fast for me,' she said. 'I felt completely inept and thought there was no way I was ever going to pick up the language.' However, Nicola has structured a class where she teaches her students to learn the simple phrases needed to get you through a holiday or weekend away in Italy. 'I teach my students how to speak Italian in a fun way, that is, without having to delve through verbs and adjectives. That is something we can do in the more extensive course, but in Basic Italian, you just need to get through the ordinary day vocabulary.
At the end of the course Nicola said you will be able to 'read a menu in Italian, order in Italian, ask directions, engage with Italian people in shops etc and also learn about Italian culture - including tips on your trip to Italy.' Nicola has travelled extensively in Italy and has also written novels set there.'
Some reviews and comments from students that have attended Nicola's Italian classes here at LSA
" Nicola is an excellent tutor. I joined the class with a few basic phrases and finished as a very confident beginner, she has encouraged us all the way, sending daily phrases etc. I definitely have enough Italian now to get by in a a holiday in Italy. Looking forward to the next level of classes starting and getting to learn more Italian"
"Nicola genuinely cares for her students and adds a a sense of fun to her classes. I'm looking forward to continuing my studies with her."
"I am delighted to have successfully completed my Introduction to Italian with you Nicola. It's amazing how much we can learn, as adults, when we have a conducive learning environment and competent teacher as yourself. Your teaching style was relaxed but far-reaching and has equipped me with the confidence to speak Italian at my upcoming break in Italy. The class content; a mixture of vocabulary, verbs, vernacular words and phrases for day-to-day travel, is a toolkit that will be invaluable to me. An unexpected touch was the inclusion of Italian Culture which really is intrinsic to an appreciation for the language and future travel."
Leitrim School of Art (LSA)
Deposit and Missed Classes Refund Policy from 1st December 2022
(a) Due to substantial increases in business costs LSA cannot offer discounts, refunds, or alternative places on future events for missed classes within class blocks.
(b) A request for a refund of a deposit may be considered if the refund request is received by LSA at least 10 days before the start of the event.
(c) A request to transfer a deposit to another event may be considered if the request to transfer is received by LSA at least 10 days before the start of the originally booked event.
(d) Requests for refunds or transfer of deposits must be notified to LSA by email to michael@leitrimartschool.ie
(e) Requests for refunds will be responded to by LSA within 3 days of the request being notified to us.
(f) Your statutory rights as a consumer are not affected and LSA will "make good" on its obligations to consumers for failure to provide classes and workshops (e.g., event cancellation).