Italian Island-hopping, Volcano trek in support of Our Lady's Hospice
Description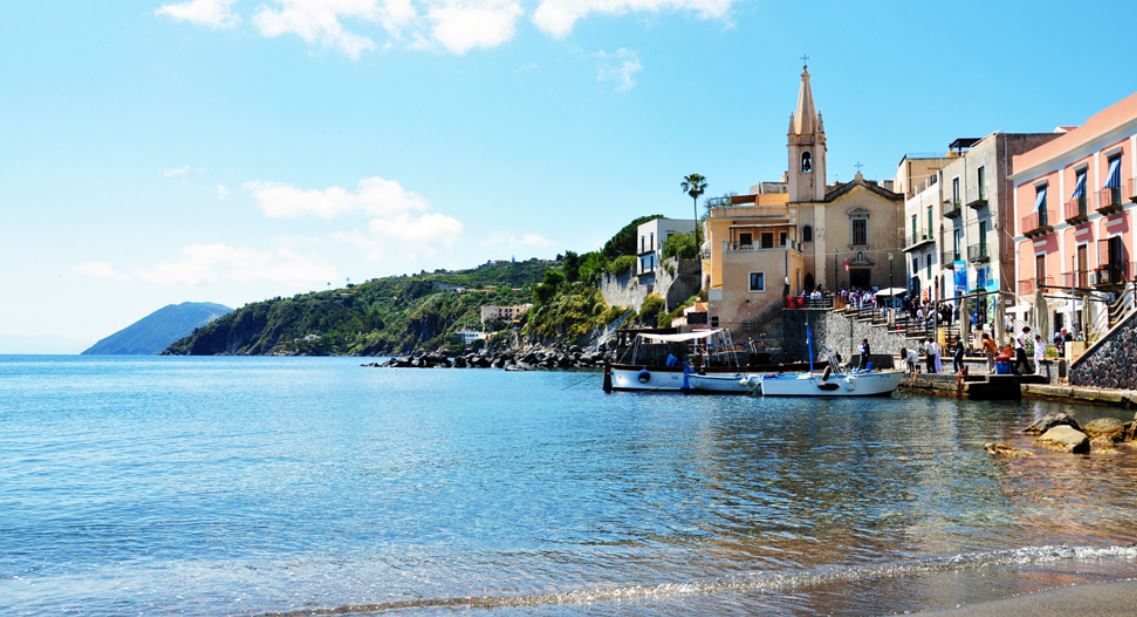 Fundraising Trek to Sicily, Lipari, Stromboli and Vulcano:
An Aeolian archipelago adventure!
Join us for an unforgettable experience trekking through Sicily and the Aeolian Islands – climb Mount Etna and witness active volcanic eruptions – 13th to 20th October 2018
Why take part?
The Annual Hospice trek is just one route that we rely upon in Our Lady's Hospice & Care Services to raise funds. Each year the demand for our serices increases - yet our state funding has been cut by 25% since 2009; by joining us on this overseas adventure you will be making a *real* impact: your eforts will help ensure that we continue to provide excellent levels of care for patients and their families.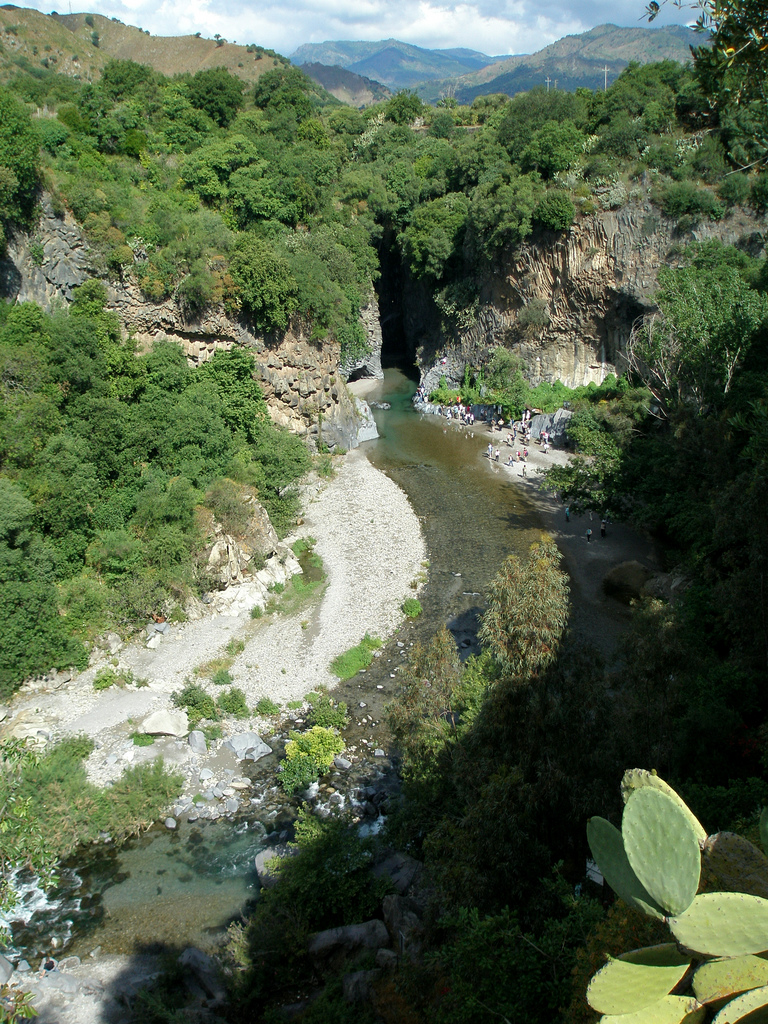 The location
The islands to the south west of Italy in the Aeolian Sea are home to some of Europe's finest active volcanoes, including Mount Etna (the largest in Europe) and Stromboli (the most active in Europe); we will be visiting both of these under the guidance of specialist volcanologists. We will be witnessing impressive geological structures forged by the awesome forces of nature; we will visit beaches of black sand and crystal-clear waters, bathe in hot springs and mud baths; we will visit ancient archaeological sites (Greek tombs and theatres, and a prehistoric village); and we will enjoy wonderful Italian cuisine as we bask in the heat and soak up the spectacular ambiance. It is sure to be a spectacular and completely unforgettable trip.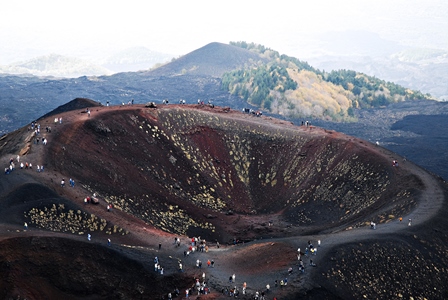 Participants will be walking between three to six hours each day, (hiking boots are essential for this trip!).
The ask
To join us on the spectacular trip of a lifetime all you to raise is €3,100 in return for which we can promise you the experience of a lifetime, with transfers, accommodation, food, guides all included so all you need to do is bring your walking boots and a positive attitude to have some great fun while raising vital funds for Our Lady's Hospice & Care Services.
How to achieve your fundraising target
To help you along the way, once again this year we will be offering you a €200 discount from your total for every additional friend you bring along. Don't forget – the Fundraising Team here in the Hospice will be on-hand to support your efforts throughout your time fundraising, whether that be through social media, letters of verification, posters and flyers, or the provision of bag-packing / bucket-collection opportunities wherever we can. We're also full of ideas on how you can raise funds. Just a few examples of the best fundraising activities from last year were as follows:
Bag packing
Church gate collections
Pub quizzes
Raffles
EBay sales
Car boot sales
But if you're new to fundraising, don't worry, we're here to help, and we'd be happy to help you plan your activities and make sure you have everything you need.
We do hope you'll join us this year for what promises to be an amazing trek.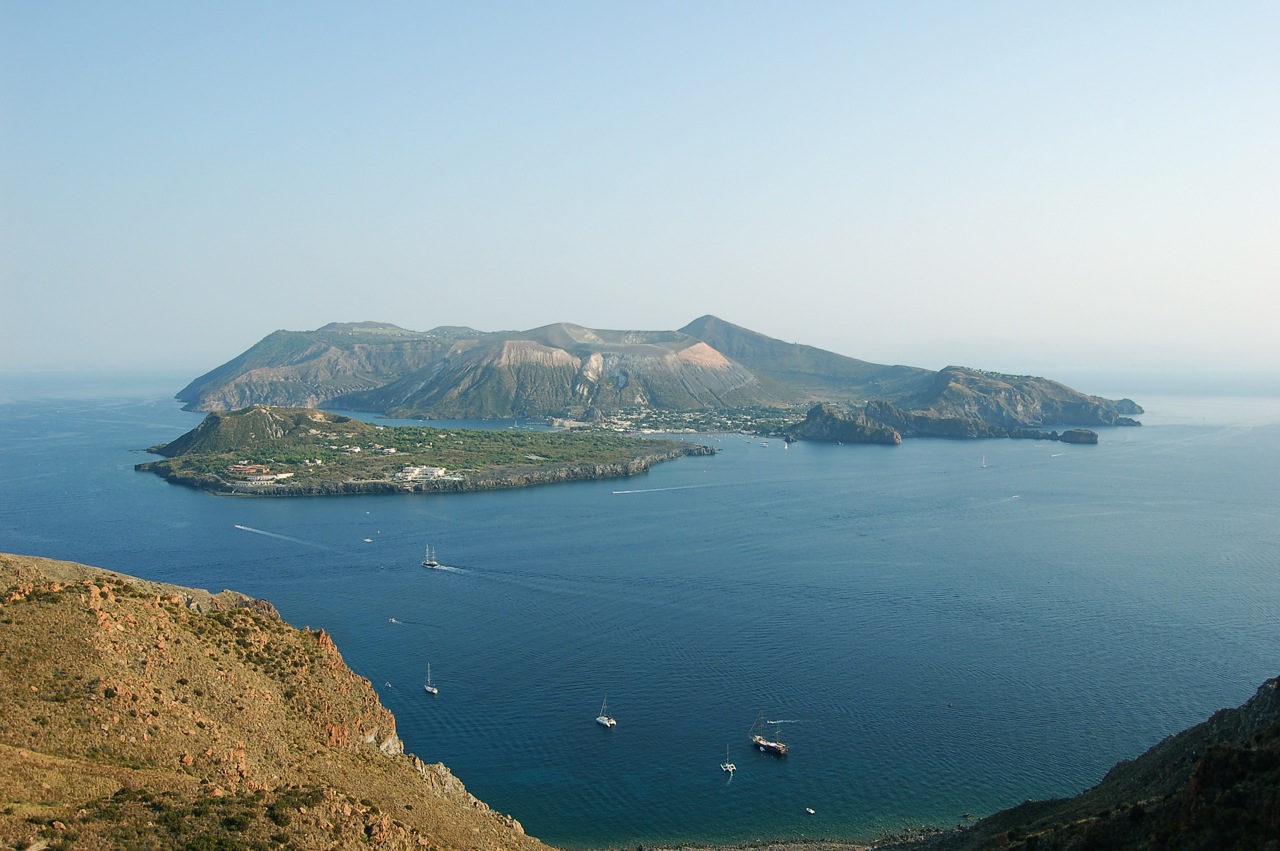 The Route
Day 1
Arrival in Catania. Private bus transfer to hotel in heart of city. Free time to explore
Day 2 (Approx 7km walking today; driving time 1.5 hrs)
Explore local town in morning; bus pick-up / transfer to Mount Etna
Sartorius Mountains (part forest, part old lava); spectacular views of Strait of Messina
Travel to next hotel (the highest hotel on Mount Etna); walk over the Crateri Silvestri (formed by a Volcanic explosion of 1892).
Dinner in hotel followed by documentary
Day 3 (4 hours walking with option to extend to 6 hours)
Explore the summit of Mount Etna (Europe's highest, active volcano)
Cable car to 2500m, then 4×4 transport up to 3000m. Easy trek from here to the top!
Refreshment break before visit to one of the craters
Downhill walk with great views of Valle del Bove in which you will see many lava flows, one atop the other. If active flows are visible your guide will show you these from a safe distance.
Return to the hotel by cable car (or if a longer walk is preferred, walk back to the hotel)
Please note: if weather conditions do not allow an ascent to the top we will take an alternative walk over one of the most impressive cones, the Montagnola, and along the edge of the Bove Valley
Day 4 (Walking time 4 hrs; driving time 1.5 hrs)
After breakfast, bus transfer through scenic Via MareNeve, to see the most recent lava flows where we will take a walk to see where lava burst out.
Visit the charming little town of Lingualossa for lunch and sample the local cakes.
Travel on to the sea via the valley of the Alcantara river and take a short, easy walk through the spectacular canyon here.
Arrive at Taormina for an optional walk through the city to see the theatre.
Continue on to Milaxxo Harbour and take the ferry to the Island of Lipari (largets island in the archipelago). Dinner in hotel
Day 5 (3 hrs walking)
An easy morning walk to the southern side of the island to the old Roman Spa near San Calogero; great views of nearby island of Volcano
The afternoon is free to explore the local natural and cultural treasures, which include remains of Greek tombs and theatre and a prehistoric village near the castle. There is a good archaeology museum here also.
Freshen-up in the hotel then wander the Marina's many small streets; stop for a pre-dinner aperitivo
Your own choice of evening meal in a local restaurant (evening meal not included on this day)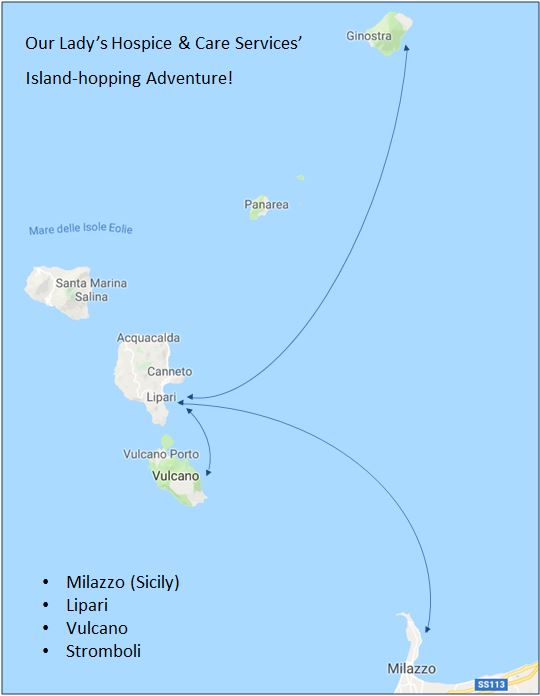 Day 6 (3 hrs walking)
After breakfast we take the ferry to the island of Vulcano, dominated by the spent crate of Volcano della Fossa (named after the Roman God Vulcanus); the Roman name for this Island led to the word volcano being used in most modern European languages.
The island is famous for its black beaches, thermal springs and sulphar mud baths. Our tour will take us to see gas fumaroles (where super-heated water turns to steam as it emerges from the ground); then we will return to the beach to relax where we can also enjoy the thermal springs and mud baths.
Later in the afternoon a hydrofoil brings us back to Lipari where we will have dinner together.
Day 7 (3 hours walking)
Early morning start – hydrofoil to Island of Stromboli, northern most island of the archipelago and home to one of the most active volcanoes in the world. It was this site that inspired Jules Verne's A Journey to the Centre of the Earth.
Walk towards the top of the volcano and witness active explosive eruptions of ash and incandescent molten rock, reaching up to 120m into the sky.
Please note that due to the active nature of this crater our guide might decide it is not safe to take this walk, in which case we will visit Sciara del Fuoco, which is a large horseshoe-shaped depression in the summit that offers wonderful views.
Time available to explore the fishing hamlet of Stromboli before we take a boat back to Lipari, where we enjoy a last supper together.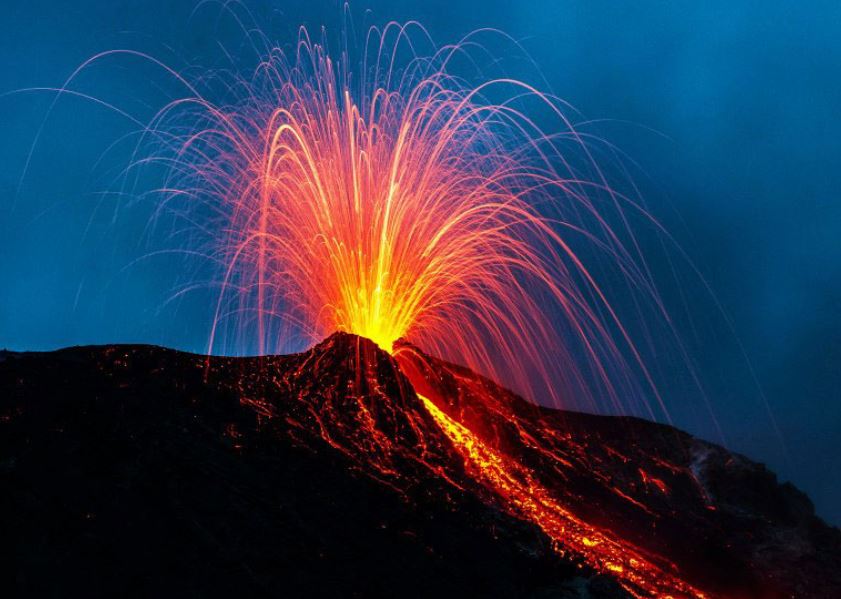 Day 8
The tour ends in Catania after breakfast today. Coach transfer to Airport.
For anyone wishing to extend their tour an overnight boat will take you to Naples from here.
What's included?
Hotel
Accommodation is on a half-board basis (except for days 5 and 7 in Lipari)
On Mount Etna you'll eat on the premises, while on Lipari 2 dinners will be at the hotel and 2 dinners will be local restaurants. Picnic lunches are included and can be prepared through the accommodation.
Prices
Airport transfers
7 nights Hotel
Meals
City taxes
Private transfers, public transport & entrance fees
Group transfer from location to location, together with guides
Excursion: Mt Etna
Specialist volcano guide (day 4)
Boat transfers (day 7)
Private English speaking tour leader for 8 days
Picnic lunches
The registration form can be found here http://olh.ie/fundraising/calendar-of-events/trek/sicily-trek-2018-registration/
Enquiries can be made here http://olh.ie/fundraising/calendar-of-events/trek/sicily-trek-2018-enquiries/
FAQs
Are there ID or minimum age requirements to enter the event?
The minimum age limit is 16 years.
What are the travel requirements?
You will need an up-to-date passport and your own travel indurance.
If you want a room to yourself, a single room supplement of 200 euros is payable, otherwise you can share a room free of charge with one of the other participants.
What can I bring into the event?
You will have 20kg baggage. We can advise you on specific items to bring along with you once you sign up to attend.
How can I contact the organiser with any questions?
Tel: 01 4911072 or email: dlawson@olh.ie or visit OLH.ie/Trek
What's the refund policy?
To reserve your flight we need a deposit of 300 euros. This is non-refundable, but it does come off your total (so you only need to raise a further 2800 euros in sponsorship money).
How do I raise 3100 euros?
We have lots of ideas and can provide you with stacks of support.For example:
Bag packing in supermarkets
Raffles
Pub quizes
Coffee Mornings
Book and cake sales
Everyday Hero website
Please give us a call to discuss and you will discover that it is a very realistic target.