Location
Cregan Library, DCU St Patrick's Campus
Drumcondra Road Upper
Dublin
Ireland
Description
ITS ALL ABOUT BOOKS
An exhibition by visual artist Marie Hanlon
and an accompanying series of Thursday Talks
by Marie Hanlon, Alan Titley, Dr. Sharon Murphy,
Jason McElligott and Dr. Tanya Lokot
Friday 22nd February – Friday 15th March
Set in the wonderful contemporary glass architecture of the DCU Cregan Library, Marie Hanlon's visual art installation is designed to set us thinking about our engagement with books. A catalogue accompanies the exhibition with essays by Colm Tóibín, Joanne Laws, Catherine Marshall and Patricia Flynn.
EXHIBITION OPENING: 22nd February 6pm
Please come along to the Cregan Library on DCU St. Patrick's Campus for the opening night of this lovely exhibition on the evening of Friday February 22nd. You will be welcome! We ask that you let us know you are coming by clicking the green "Register" button above.
THURSDAY TALKS: 28th February, 7th March, 14th March, 6-7pm
Three Thursday Talks are being scheduled to accompany and illuminate the exhibition, featuring a range of fascinating observations and viewpoints. The talks are FREE to attend, but you must book your place in advance by clicking the green "Register" button above.
28th February - Marie Hanlon - It's All About Books
Marie Hanlon discusses the process of exhibition making, asking 'how do ideas become artworks?' In presenting the book as 'object' her installation It's All About Books draws points of connection between the literary and visual arts.
7th March - Sharon Murphy (DCU School of English) and Jason McElligott (Director of Marsh's Library)
"The climate is unusually destructive to Books": India, Libraries, and the Early-Nineteenth Century British Soldier - Sharon Murphy
Exploding Back into Life: The Re-Discovery of Forgotten Books - Jason Mc Elligott
14th March - Alan Titley (Author/Scholar) and Tanya Lokot (DCU School of Communications)
Lest We Remember: An Poll Sa Chuimhne - Alan Titley
Manuscripts Don't Burn: Censorship, Samizdat and the Curious Life of Mikhail Bulgakov's Master & Margarita - Tanya Lokot
Brought to you by GlasDrum and DCU Library. Supported by DUBLIN UNESCO City of Literature, DCU and Fingal County Council. Marie is a member of Aosdána, an affiliation of creative artists in Ireland.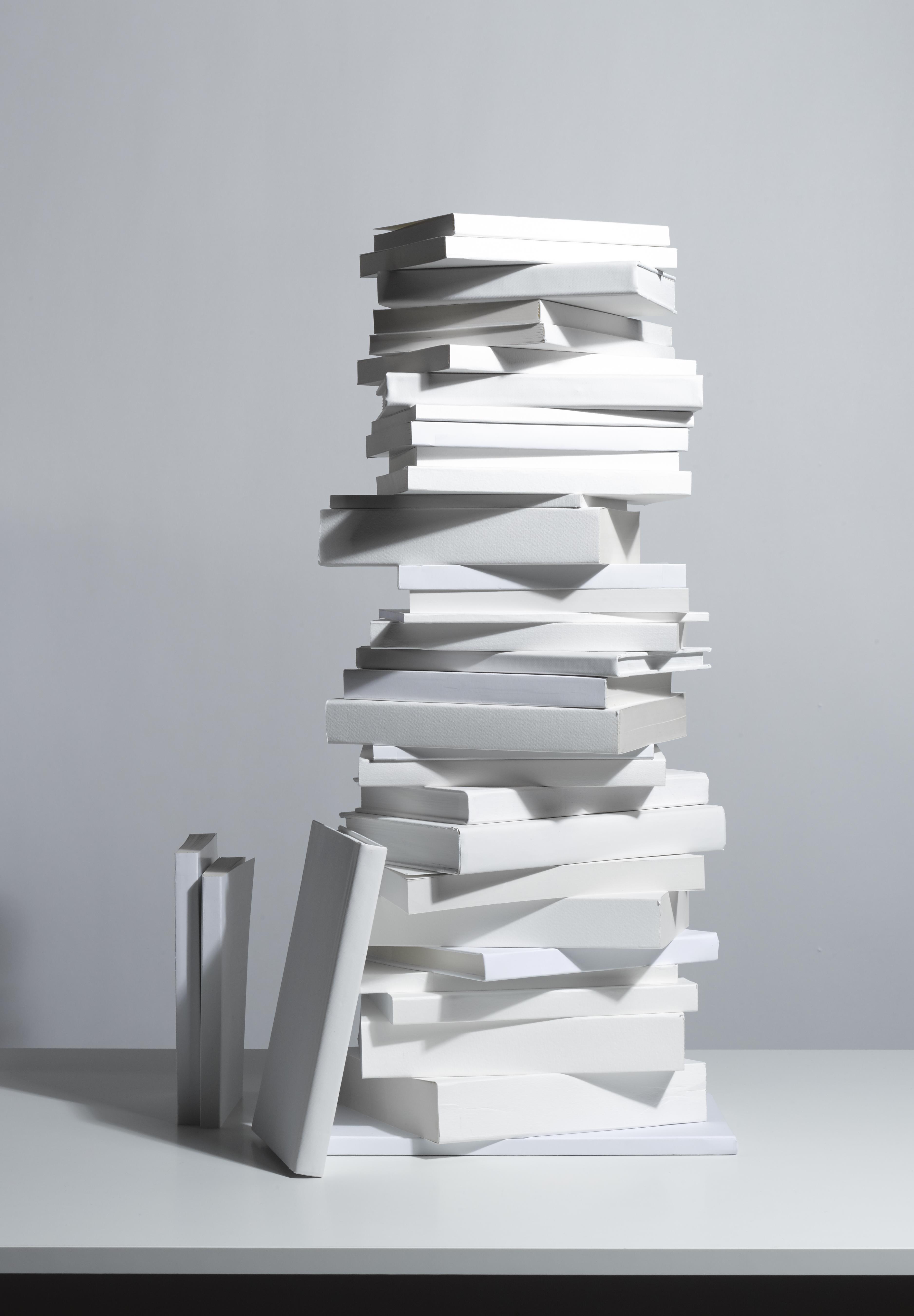 ---
MORE ABOUT THE EXHIBITION
Combining Marie Hanlon's literary and visual interests, IT'S ALL ABOUT BOOKS is a visual art installation set in a library while raising questions about the role of the book in our culture: as artefact, object, document, resource, entertainment and concept. The pieces engage with the materiality of books, their history and their future in a technology driven world. They explore points of intersection between writer and reader, reader and fellow reader.
At the heart of Marie Hanlon's exhibition is the interchange between the ideas of the book and other artforms. Works such as "Alas, poor YORICK!" (a direct reference to Laurence Sterne's novel The Life and Opinions of Tristram Shandy, Gentleman), "Black Book" inspired by Samuel Beckett's The Calmative or "Ulysses Bolted" based on James Joyce's Ulysses, intertwine references from literature with the exploration of form giving us different ways to open up the ideas contained between the covers."Book of Mirrors", "Obsolete" and "Ghost" play with physical form and raise questions on self obsession, how ideas develop, authenticity. Other works explore how language evolves and the advances of technology and leads us to consider how we the readers engage.
Overlooking Dublin city, a place strongly associated with literature, Cregan Library on DCU's St Patrick's Campus is a fitting venue for Hanlon's exhibition.
MORE ABOUT THE ARTIST
Marie Hanlon was born in Kilkenny and holds an MA in Art in the Contemporary World, from the School of Visual Culture, NCAD,Dublin, also a BA in Art History and English from University College, Dublin, she is a member of Aosdána.
Hanlon's work is concerned with 'making visible', she seeks to arrest moments of everyday experience which inform our being in the world, but which might be easily bypassed if not selected out for attention and focus. Moving from a language of extreme abstraction Hanlon's more recent work references reality, either directly or in ways which are subtle and oblique. Through collaboration with contemporary composers she has extended her range of media to include moving image and installation. Water Table, Luan Gallery, Athlone, 2018 was concerned with water in a time of climate change, it comprised a water installation with sound by composer Rhona Clarke. Hanlon has exhibitied widely as a solo artist, in addition to group shows and screenings, throughout Ireland and abroad. She lives in Dublin and is represented by Rubicon Projects.