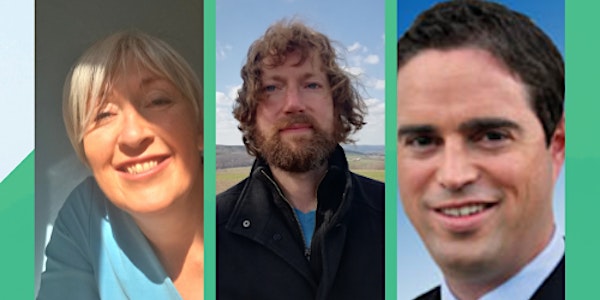 IWC Climate Writing Group: Writing for a Change Session Four 2022
Please join us for the fourth session of 2022 of the Irish Writers Centre Climate Writing Group: Writing for a Change. Free but registration
Refund Policy
Contact the organiser to request a refund.
About this event
Please join us for the fourth session of 2022 of the Irish Writers Centre Climate Writing Group: Writing for a Change. There is no fee for attending these sessions, they are a gift to all writers to take away and use in their work. The theme for this session is Sustainable Agriculture in Fiction, special guests include author Ryan Dennis and Minister Martin Heydon TD.
Lynn Buckle is a Deaf/hard-of-hearing author, artist, activist, and tutor. Her novel What Willow Says, published by époque press, won the international Barbellion Prize for ill and disabled authors in 2022. It is a celebration of deafness, nature, and the language of trees. Other work includes her debut novel The Groundsmen, several anthologies, and literary articles for The Irish Times and Books Ireland Magazine. She is the recipient of many literary awards, most recently as Ireland's representative as a UNESCO City of Literature Writer in Residence 2021 at the UK National Centre for Writing. She is the judge of several writing competitions and founder of the IWC Climate Writers' Group – part of the world-wide climate writers' movement, working for a positive future, affecting change through fiction.
Twitter @Lynn_Buckle
Insta     @lynnbuckle1
Web     https://lynnbuckle.wordpress.com/about/
Ryan Dennis is the author of the novel The Beasts They Turned Away published by époque press. He founded The Milk House, a rural writing collective, and edits its literary magazine. A former Fulbright recipient and PhD in creative writing, his fiction, personal essays, and poetry can be found in numerous journals such as New England Review, Threepenny Review and Cimarron Review. He teaches creative writing at European universities, most recently as Writer-in-Residence at Maynooth University.
Martin Heydon TD is Minister of State at the Department of Agriculture, Food and Marine. He is Fine Gael TD for Kildare South constituency. He was first elected in 2011 and subsequently re-elected in 2016 and 2020. Martin served as Chairman of the Fine Gael Parliamentary Party from 2016 – 2020. In July 2020 he was appointed as Minister of State with special responsibility for Research and Development, Farm Safety and New Market Development at the Department of Agriculture, Food and the Marine. He previously served as a member of the Joint Oireachtas Committee on Agriculture and was a member of the Joint Oireachtas Committee on Climate Action which produced the cross party report on Climate Action 'Climate Change: A Cross- Party Consensus for Action'. He has also served on Oireachtas Committees on Arts, Heritage, Regional, Rural, and Gaeltacht Affairs, and Petitions. Martin is a native of South Kildare living outside Kilcullen. He attended Crookstown N.S., Cross & Passion College Kilcullen and Kildalton Agricultural College. He is married to Bríanne and they have 4 children.