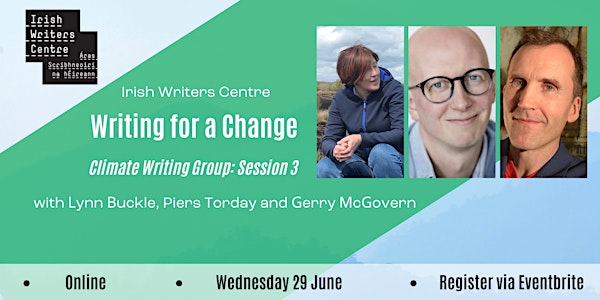 IWC Climate Writing Group: Writing for a Change Session Three 2022
Please join us for the third session of 2022 of the Irish Writers Centre Climate Writing Group: Writing for a Change. Free but registration
About this event
Please join us for the third session of 2022 of the Irish Writers Centre Climate Writing Group: Writing for a Change. There is no fee for attending these sessions, they are a gift to all writers to take away and use in their work. Special guests include Piers Torday, author of 'The Last Wild' trilogy, and Gerry McGovern, author of 'World Wide Waste'.
Lynn Buckle is a Deaf/hard-of-hearing author, artist, activist, and tutor. Her novel What Willow Says, published by époque press, won the international Barbellion Prize for ill and disabled authors in 2022. It is a celebration of deafness, nature, and the language of trees. Other work includes her debut novel The Groundsmen, several anthologies, and literary articles for The Irish Times and Books Ireland Magazine. She is the recipient of many literary awards, most recently as Ireland's representative as a UNESCO City of Literature Writer in Residence 2021 at the UK National Centre for Writing. She is the judge of several writing competitions and founder of the IWC Climate Writers' Group – part of the world-wide climate writers' movement, working for a positive future, affecting change through fiction.
Twitter @Lynn_Buckle
Insta     @lynnbuckle1
Web     https://lynnbuckle.wordpress.com/about/
Piers Torday is the Northumbrian-born author of The Last Wild, winner of the Guardian Children's Fiction Prize. After writing several other children's books, he returned to his award-winning trilogy with his 2021 prequel The Wild Before. Piers was a TV and theatre producer for many years, a playwright, and judge for the Guardian Children's Fiction Prize, the Costa Book Awards, Indie Book Award, Coram Voices, the British Book Awards, and the Book Trust Lifetime Achievement Award. Along with his brother Nick, he co-founded the Paul Torday Memorial Prize for Debut Authors over 60.
Gerry McGovern has published eight books. His latest, World Wide Waste published by Silver Beach in 2020, examines the impact digital technology has on the environment and what can be done about it. He developed Top Tasks, a research method which helps identify what truly matters to people. The Irish Times has described Gerry as one of five visionaries who have had a major impact on the development of the Web. Join Gerry for some practical advice on what we can do, as authors, to reduce our carbon footprint during the physical act of writing our books.