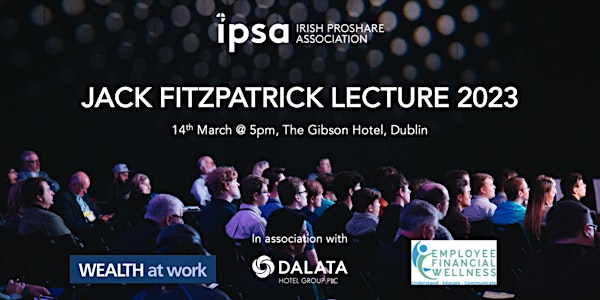 JackFitzPatrick Lecture 2023
Leading annual employee share ownership conference which this year tackles the question: Why does Financial Wellbeing matter for employees?
By Irish ProShare Association
Date and time
Starts on Tue, 14 Mar 2023 17:00 GMT
Location
The Gibson Hotel Point Square D01 X2P2 Dublin 1 Ireland
About this event
Join the Irish ProShare Association at the Gibson Hotel in Dublin on March 14th for the annual Jack FitzPatrick Lecture.
The focus of this year's event is Employee Financial Wellbeing and we're delighted to welcome Sarah Long and Mark O'Grady as keynote speakers.
Sarah is the Head of New Business at UK financial wellbeing and retirement planning firm WEALTH at work.  Mark is a Director of Employee Financial Wellness, one of Ireland's leading providers of financial wellbeing programmes for employees.
This year's 'JackFitz' tackles the question: Why does financial wellbeing matter for employees?
The financial requirements of someone in their 20s or 30s are different to someone in their 40s or 50s , so what financial education and guidance do people in the workplace need to navigate the life events they encounter throughout their career and how should it be delivered?
From debt and money management to optimising employer sponsored benefits such as share schemes and planning for retirement, Sarah and Mark will set out the benefits of financial wellness education for both employers and employees and how it puts them in control of their money now and for the future.
Employees who have the skills and support to cope with the financial challenges they encounter during life will be more settled, less distracted by money worries, and more productive.
The event will also focus on establishing financial resilience in the current cost-of-living crisis and what people should be doing to mitigate its impact.
The annual Jack FitzPatrick Lecture is organised by the Irish ProShare Association to commemorate the legacy of Jack Fitzpatrick who campaigned in Ireland for legislation to recognise and incentivise company profit share schemes.
The Jack FitzPatrick Lecture 2023 is sponsored by Dalata Hotel Group and WEALTH at Work. It is a free event for IPSA members and their clients, starting with a drinks reception at 5pm and speakers from 6pm.
THE SPEAKERS
Sarah Long is an accomplished speaker who is passionate about all aspects of wellbeing in the workplace and, in particular, financial wellbeing to help improve people's lives. She has more than 30 years' experience working in the equity plans/employee benefits/wellbeing market. Outside work, Sarah is a keen marathon runner who has raised more than €30,000 for breast cancer charities, and is also a Rugbytots coach.
Mark O'Grady is at the forefront of creating a culture in Ireland of employers prioritising financial wellness in the workplace. By advocating for jargon free, education first, client focused solutions Mark has helped some of Ireland's leading businesses and brands.  Mark designs employee education programmes that help prevent financial stress before it takes hold and have lasting impacts on the workplace and employees.
About the organiser
The Irish ProShare Association (IPSA) represents organisations which offer employee financial incentives; from employee ownership, to profit-sharing, to gain-sharing and everything in between. We advocate for greater employee involvement in Irish businesses. We are a not-for-profit, independent, voluntary organisation that works in close partnership with its members to champion, promote and provide insight into the business case for employee financial involvement and employee ownership as a business model of economic stability into the future.