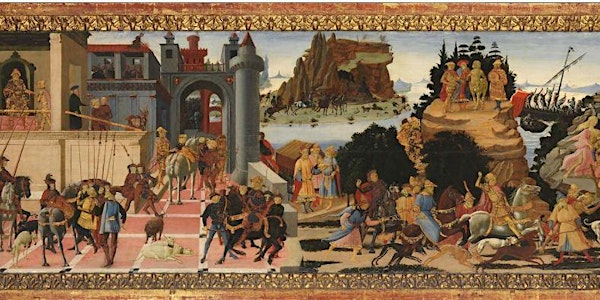 JAMES J. CLAUSS (U. OF WASHINGTON, SEATTLE)- TCD CLASSICS RESEARCH SEMINAR
James Clauss, University of Washington, Seattle : 'Fear and Anger in Apollonius' Argonautica'
About this event
TRINITY COLLEGE DUBLIN, CLASSICS DEPARTMENT RESEARCH SEMINAR, MICHAELMAS TERM 2021-22
Wednesday, Feb 9, 2022, 17:30 (Dublin/London), by Zoom
Zoom links will be distributed to all EventBrite registrants. If you have registered, you can also access the Zoom meeting by clicking the "Access this Event" button on the right.
ZOOM LINK:
https://tcd-ie.zoom.us/j/93977907143 Meeting ID: 939 7790 7143
ABSTRACT:
It is my hypothesis that Apollonius, an ardent reader of Euripides among other archaic and classical authors, was also interested in human behavior in addition to literary and historical intertexts, Homeric research, geography, the mixing of genres, etc. While fear and anger figure in many ancient narratives, their close interrelationship in the Argonautica feels more purposeful and specific than traditional or intertextual. Its presence, largely implicit in the first two books, emerges as a major focal point in the second half of the epic. What distinguishes Apollonius' take on these emotions is that the anger mortal and divine characters exhibit appears to emerge as a defensive and seemingly spontaneous response to fear, in some cases fear of a loss of status or in the case of Aeetes' family and people, fear of an overbearing and rageful authority figure. Intense fear in the epic prompts a 'fight or flight' response triggered by the sympathetic nervous system such as has been observed in modern medicine. While Apollonius would not have had the terminology to describe what he represented in his poem, as a keen observer of human behavior he seems to me to have understood and dramatized the concept. What follows is a primarily linear, rather than thematic, presentation of the topic with an eye toward presenting the emotional nexus as would have been encountered by the original audience.
HANDOUT (Google Docs):
https://docs.google.com/document/d/1JTagb8YjJNqgfeu3FnVuHKRngoRWBRvc/edit?usp=sharing&ouid=100813347128289193395&rtpof=true&sd=true
Image credit: https://commons.wikimedia.org/wiki/File:Scenes_from_the_Story_of_the_Argonauts_MET_DP164779.jpg">Biagio d'Antonio, CC0, via Wikimedia Commons