Location
Walters
68 George's Street Upper
A96 Y981 Dublin
Ireland
Reading and Writing Workshop with Leo Cullen
About this event
There's so much more to celebrate this Bloomsday. On the occasion of the hundredth anniversary of the publication of Ulysses, ArtNetdlr will host 'James Joyce and Joycean Writing' Workshop with Leo Cullen on Tuesday 7 June, at Walters.
"We will look at James Joyce and some of his literature: Dubliners, Portrait of the Artist, Ulysses. I want this seminar cum workshop to be fun and to that end we'll study Joyce's style and then I will suggest exercises loosely based on some of the writing from these three works, and you will write short pieces and will read them to the group."
You may recognize this snatch of text from t
he eleventh chapter of Ulysses, the Sirens episode. Frank Budgen confirms this in his note at the foot of the page: "Zurich 1918 (or 1919?) The above words in Joyce's handwriting are from the Sirens episode of Ulysses. Frank Budgen." And Joyce himself explained: "I make notes on stray bits of paper which I then forget in the most unlikely places, in books, under ornaments and in my pockets and on the back of advertisements."
Leo Cullen – novelist, short story writer, poet, playwright, radio broadcaster, writing facilitator. Publications: 'Clocking Ninety on the Road to Cloughjordan'; 'Let's Twist Again'; writings in many anthologies, magazines, newspapers. Broadcaster on RTE radio and BBC4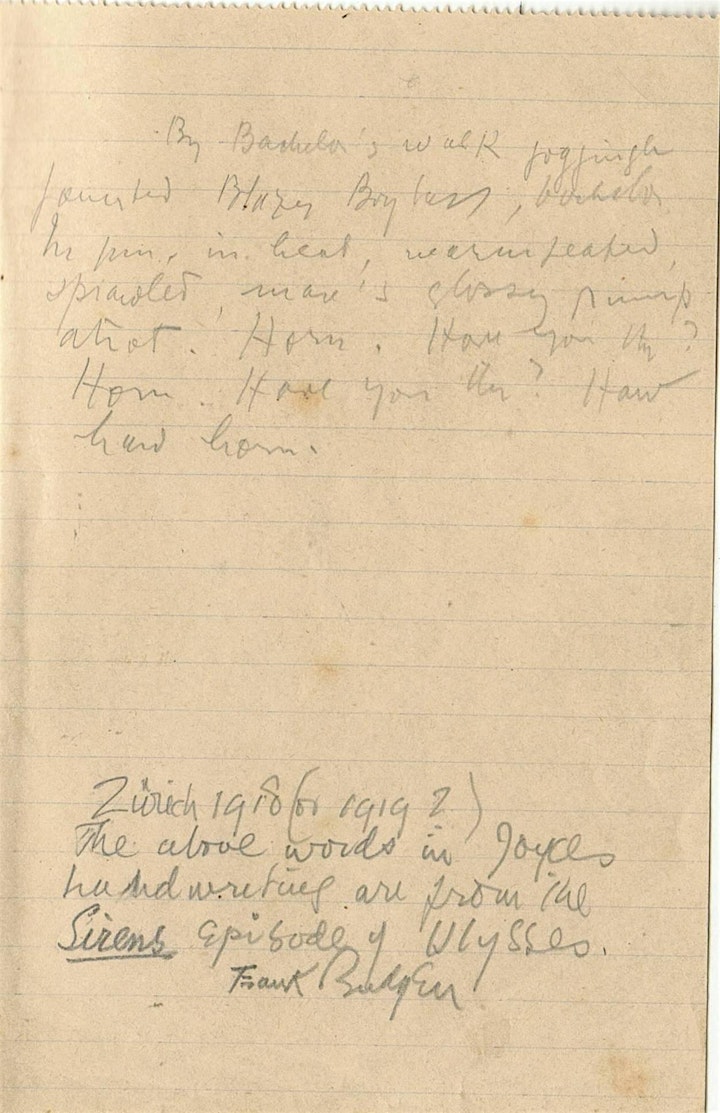 IMAGE COURTESY GLENN HOROWITZ BOOKSELLER, INC.; DOCUMENT NOW PART OF A PRIVATE JOYCE COLLECTION IN NEW YORK.