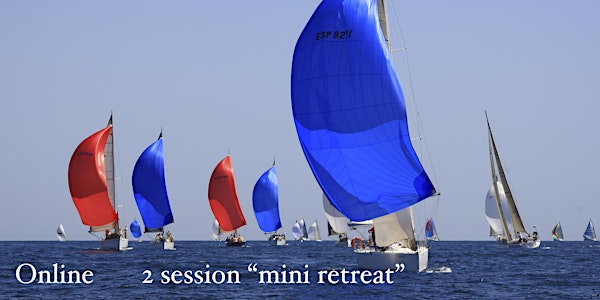 JANUARY SAILS - movement & meditation for the New Year - online
movement & meditation to navigate through Christmas - and begin the New Year in an inspiring way!
Refund Policy
Contact the organiser to request a refund.
About this event
2 sessions - follow 'live' and/or via the recording.
Wednesday 29 and Thursday 30th December 2021
10.30am - 12.00noon [Ireland]
January Sails is a breath of fresh air in the midst of the holiday season. Christmas can be a time of extremes - these sessions will bring some balance and clarity - breathing and movement exercises followed by the stillness of meditation, to refresh our body and calm our mind - perfect preparation for the New Year!
Suitable for beginners and people of all ages and fitness levels - and for those who are already familiar with Kum Nye and wish to deepen their experience.
January Sails is;
Two ninety-minute 'live' sessions 10.30am 12noon [Ireland]
Links to recordings for re-view/late-viewing
Practice guidance/advice for between sessions
Advice/support with 'how to continue' into 2022
People new to Matt's sessions may find the following info helpful;
Set Up Kum Nye is a slow and meditative form of yoga, it is good to wear clothing that allows free movement, minimal jewellery etc. Barefoot is good but warm socks are cosy. Yoga mats are not necessary, but a comfortable, firm chair, without arms is. We sit forward on the chair a little and it's good if your feet reach the ground - if the chair is too high put cushions or blankets under your feet.Only sit on the floor/on a cushion if that is comfortable and easy for you. If you are new to meditation you may find the following video On Posture [17minutes] helpful. It describes the options for seating, the main points of the posture and some other tips.
Ideally you will follow the sessions from a quiet space with a good internet connection - and make sure you can see your screen!
Booking through Eventbrite Eventbrite will send you a booking confirmation and a link to join the sessions - they also send a reminder email the evening before, including the link preventing any last minute panic!
Connecting using Zoom The live sessions are streamed using Zoom. By now many of us are familiar with Zoom but if it is your first time you will need to download the Zoom meeting app (it only takes a few minutes but do it days in advance again so there's no stress). You do not have to have or create a Zoom account to join this streaming. I look forward to seeing you on-line!