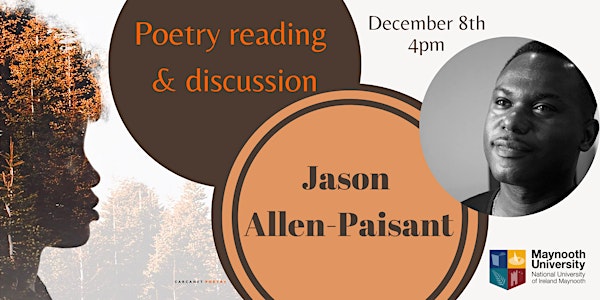 Jason Allen-Paisant: Poetry reading and discussion
Poetry reading and discussion with award-winning poet Jason Allen-Paisant. Part of the the Poetry & Poetics series at Maynooth English
About this event
The Poetry and Poetics reading series at the Department of English at Maynooth is delighted to host award-winning poet Jason Allen-Paisant. Jason will be reading from his acclaimed first collection, Thinking with Trees (Carcanet, 2021) and from his forthcoming book, Self Portrait as Othello (Carcanet, 2023).
The discussion will be led by Dr Catherine Gander and Dr Karl O'Hanlon, followed by an audience Q&A.
This event will take place online, via Zoom webinar. Registered attendees will receive a zoom link in the hours before the event.
About the poet:
Jason Allen-Paisant's writing explores embodied experience in the context of Afro-diasporic history. His critically acclaimed collection, Thinking with Trees was a 2021 Irish Times Poetry Book of the Year and won the Poetry category of the 2022 OCM Bocas Prize for Caribbean Literature. His work has appeared in Granta, The Guardian, The Poetry Review, Callaloo, New Poetries VIII, The BBC, More Fiya: A New Collection of Black British Poetry, among other venues. He has been the recipient of a prestigious Leverhulme Early Career Fellowship for research on poetry and theatre, holds a Doctorate in Medieval and Modern Languages from the University of Oxford, and is currently Senior Lecturer in Critical Theory and Creative Writing in the Department of English and Creative Writing at the University of Manchester. Jason's second poetry collection, Self-Portrait as Othello, will be published in March 2023 by Carcanet Press, and his creative non-fiction book, Scanning the Bush, will be published by Hutchinson Heinemann in 2024.
Praise for Thinking with Trees:
Allen-Paisant is uncompromising when digging down through the undergrowth of our imperialist past - and yet he succeeds in replanting new narratives in the same soil where these toxic ideologies used to, and still, reside.
- Maryam Hessavi, Poetry London
Original, masterful, and beautiful ... invites us to think about a perpetual condition of 'marronage' for the Caribbean writer.
- Bocas 2022 Prize Judges, where Thinking with Trees was shortlisted
As he cuts a radical response to the pastoral in a Leeds forest where dogs are welcomed but black men are suspect, he echoes June Jordan's 40-year-old question, "suppose it was not here in the city but down on the beach/ or far into the woods I wanted to go?"'
- Martina Evans, Irish Times Best Books of the Year 2021
To hear this new sound, one is invited to cross the threshold into something "accidental / so entire so free", away from an exclusive lyric past and beyond the inherited traumas of slave labour. This crossing, the speaker of poems like 'Black Walking' informs us, is not only a physical passage but a leap over the precipice of racial asymmetry.
- Mantra Mukim, The Poetry Review
The poet scrupulously decouples nature from any sense of private ownership, opening himself up to more generous, alternative worldviews. This is a bold and impressive debut.
- David Wheatley, Guardian Review Roundup
Jason Allen-Paisant maps a complex and multifaceted internal landscape in these astounding poems. How does the person occupy a poem? How does the poem speak back to a person? How does a poem then speak to the world?... Tough queries on language and personhood are posed through Paisant's extraordinary line and sense of image; every poem seems a painting with their flashes of colour, their broad scope of place, the vivid characters of the people and animals who inhabit them. In these quietly subversive lyrics, expectations are undone, of ecologies, of people, of poems: trees, dogs, thoughts, cells, the daily world here is rendered wholly new
- Rachael Allen
Allen-Paisant's poetic ruminations deceptively radicalise Wordsworth's pastoral scenic daffodils; here the body is never restful or relaxed due to a lingering unease in these British parks and woodlands. He employs the usual meditative tropes found in nature writing, in order to exploit and amplify the psychological sense of entitlement this relationship with the land denotes. These penetrable lyrical verses and essays deconstruct democratic notions of green space in the British landscape by racialising contemporary ecological poetics. The collection's power lies in Allen-Paisant's subtle destabilization of the ordinary dog walker's right to space, territory, property and leisure by positioning the colonised Black male body's complicated and unsafe reality in these spaces.
- Malika Booker