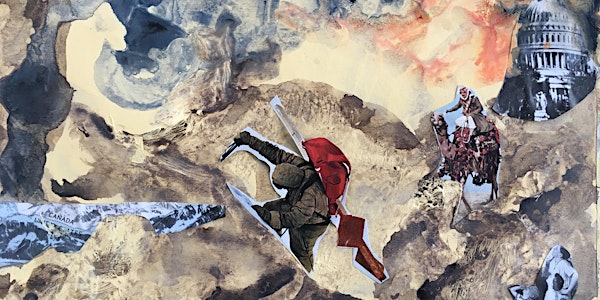 Jigmap – Mixed Media Collage Workshop
Join artist Claire Halpin for these mixed media workshops to explore image, picture, collage, painting and composition
Date and time
Starts on Thu, 5 May 2022 03:00 PDT
Refund Policy
Contact the organiser to request a refund.
About this event
Join artist Claire Halpin for these mixed media workshops to explore image, picture, collage, painting and composition. Over three workshops we will experiment using found printed materials in different ways – transforming, reversing, cutting, repeating, layering and drawing and painting to create your own artworks.
"In my paintings I use imagery from lots of different sources such as art history, TV, media, newspapers, National Geographic, surveillance, maps, archaeology and ancient civilization. As the title Jigmap suggests I piece these together, like a jigsaw map to create a narrative through painting. Like a Renaissance painting -everything is happening in the same time and place."
Claire Halpin is a Dublin born and based visual artist, curator and arts educator. In her role as arts educator and facilitator over many years, Claire has worked with a wide range of groups from primary school, secondary school, university, adults and older years in a range of settings from school, gallery, museum to community and now online platforms. She is a trained and highly experienced Azure facilitator- a slow enquiry based approach to looking at artworks designed for people with dementia.
This is a series of workshops taking place on Thursdays May 5th, 12th, and 19th.
Materials for participation:
Newspaper, magazines, books, maps, catalogues – any printed material.
A4/ A3 Card / Recycled cardboard
Tracing paper/ Grease proof paper
Pencil/ Pens/ Markers
Scissors, Pritt, PVA
Paints/ Brushes
About the organiser
We are Age & Opportunity, the national organisation that provides a range of opportunities for older people who want to get more involved in arts and culture, sport and physical activity, civic engagement and personal development. Our aim is to enable the best quality of life for us all as we age, where we can be more active, more visible, more creative, more connected and more confident.
We work with local communities and organisations across the country to run a range of programmes and activities in three key areas:
• Age & Opportunity Arts provides opportunities for us to engage more in arts and cultural events and initiatives.
• Age & Opportunity Active is designed to get us more active and to participate more in recreational sport and physical activity.
• Age & Opportunity Engage offers a range of workshops and learning initiatives for our own resilience and personal development as well as opportunities for us to play an active role in our community.