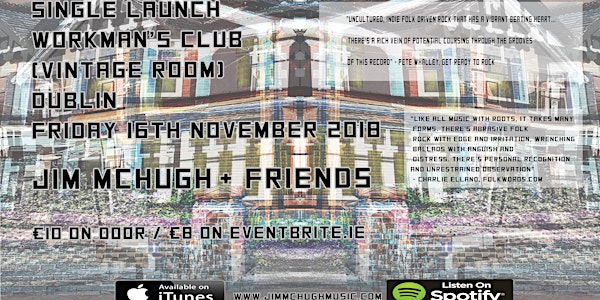 Jim McHugh & Friends (Special guest Carol Faherty)
Location
The Workman's Club (Vintage Room)
10 Wellington Quay
D02 VX36 Dublin
Ireland
Refund policy
Refunds up to 7 days before event
Description
Jim McHugh & Friends will play the Vintage Room at the Workmans Club on Friday November 16th.
This will be the 'Avenue Road' single launch party.
Avenue Road
New Single Release by Jim McHugh
Release Date: 28th of September 2018
Avenue Road is the brand new single release from Irish singer songwriter Jim McHugh. This song is about the roving's of a young man around the border town of Dundalk and adjacent coastal village of Blackrock Co. Louth.
Avenue Road is the road that leads from Dundalk out to Blackrock and is where the love interest in the song lived. Unfortunately, she left for America and lost interest in him. Avenue Road evokes his feelings; young love's heartache echoing in the melancholic arrangements and lyrics.
This is the first single to be taken from Jim's forthcoming album due for release in early 2019. It was recorded, produced and mastered in Ben Reel's studio in Armagh and features Jim on Vocals/Mandolin/Electric Guitar, Paul McCabe on Bass, Butch McNeil on Drums and Ben Reel on synthesiser.
Avenue Road will be available on all digital formats for streaming/download.
From Castleblayney Co Monaghan multi-instrumentalist Jim McHugh brings a new edge to the folk tradition blending traditional and indie styles with up-tempo beats. His musical roots reach back to his time writing and performing with his band The Mandalas (aka Unaware). In 2016 he drew upon his past and recent musical experiences to record an album of new songs entitled 'Noise Machine'.
Jim's last release 'An Muc Snámha' an Irish language song celebrating both Seachtain na Gaelige and Bliain na Gaeilge was released in March 2018. This song was based on the legend of the swimming pig of Lough Muckno and received repeated airplay on RTÉ Radió na Gaeltachta.
Jim has a new album in the making and a new single release 'Avenue Road' coming in October.
For more information about Jim, Noise Machine, An Muc Snámha and new single Avenue Road visit his website www.jimmchughmusic.com
Praise for 'Noise Machine':
'Jim brings a new dynamic to folk music as he cleverly infuses traditional styles with an uptempo and raw indie style (even the odd ballad) that creates something very different for the Irish music scene'. - Chantelle Frampton, Gigging NI.
https://www.giggingni.com/2017/10/review-jim-mchugh-noise-machine/
'And that's the charm of Noise Machine, it's uncultured, indie folk driven rock that has a vibrant beating heart. From the driving single 'Red Rose', the catchy 'River Won't Flow', the rootsy 'My Destiny' and 'Help Her Help Me, to the almost Velvet Underground reminiscent 'Do You Remember', there's a rich vein of potential coursing through the grooves of this record'. - Pete Whalley.
http://getreadytorock.me.uk/blog/2017/09/quick-plays-levi-cuss-jim-mchugh/
'This music clearly has deep-seated roots - cultural, musical and social - and like all music with roots, it takes many forms. There's abrasive folk rock with edge and irritation, wrenching ballads with anguish and distress. There's personal recognition and unrestrained observation'. – Charlie Elland
http://www.folkwords.com/folkwordsreviews_104760.html
'"Sweet Surrender" by Jim McHugh. A great song. Its raw guitar sounds & sweet vibes makes this track easy listening & thoroughly enjoyable'. - Songwriting Ireland
https://twitter.com/SongwritingIre/status/904710765785047040
''Noise Machine Album' Great Debut by Jim McHugh, down to earth lyrics, confident vocals, good tracks all round' - Zoe Farrell, MusicWand