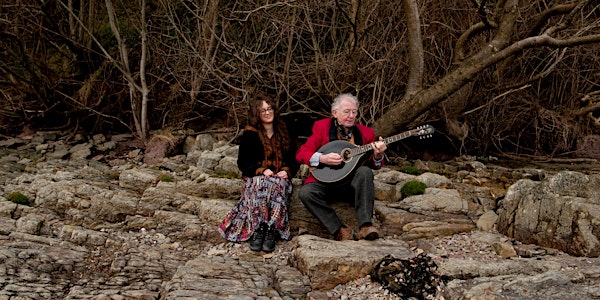 Jimmy Crowley & Eve Telford
Jimmy Crowley & Eve Telford with special guest Tom O'Sullivan
When and where
Location
Sirius Arts Centre The Old Yacht Club Westbourne Place Cobh Ireland
Refund Policy
Contact the organizer to request a refund.
About this event
Jimmy Crowley & Eve Telford
With special guest Tom O'Sullivan
Friday 10 December, 8pm (doors 7.45pm)
Limited capacity; public health COVID-19 guidelines and restrictions apply. SEE BELOW.
Jimmy Crowley is an Irish musician who specialises in collecting and playing traditional songs from County Cork. He first became a central figure in the Irish folk scene with his band Stokers Lodge's albums The Boys of Fairhill (1977) and Camphouse Ballads (1979). His next group, The Electric Band, famously had a hit with a reggae version of 'The Boys of Fairhill' and he went on to have an illustrious solo career. Eve Telford is a singer connected to the folk traditions of Ireland, exploring themes of nature and mythology. They are performing songs from Jimmy's double album 'Songs from the Beautiful City' released in December 2021.
Introducing Tom O'Sullivan, a new singer-songwriter from Great Island, Co. Cork.
AN IMPORTANT MESSAGE FROM SIRIUS
As part of our commitment to the continued well-being of our audience, team members, and the wider community we are implementing protocols and procedures to prevent the spread of COVID-19. We continue to monitor all government guidelines and are updating and revising the these protocols and procedures accordingly.
CURRENT COVID-19 PROTOCOLS AND PROCEDURES AT SIRIUS – DECEMBER 2021
Please note that, as per current public health COVID-19 related restrictions and guidelines, patrons of on-site events need to be immune (fully vaccinated or recovered from COVID-19 within the previous 6 months) or accompanied minors (under 18), in line with sectoral guidance.
We need all attendees of ticketed events to demonstrate, upon arrival, one of the following:
You have been fully vaccinated and can provide a EU DIGITAL COVID-19 CERTIFICATE in hardcopy or on your phone. Please bring photo ID also.
You have recovered from COVID-19 within the previous 6 months and can provide evidence in the form of correspondence from your doctor.
Other current COVID-19 related protocols and procedures:
You must wear face coverings whilst the building. If you have breathing difficulties please let staff know and bring an alternative to a face covering such as a visor.
Performers or speakers, once on stage, are not able to to wear face coverings, and thus are positioned as far from the audience as practically possible.
No food or beverages are provided for consumption on the premises. You are permitted to temporarily remove your face covering to consume your own non-alchoholic beverages during the event once you are seated.
Once you have booked a ticket online your name and email address are retained for contact tracing.
Entry is required 15 minutes before start time (7.45pm). Latecomers beyond official start time can only be accommodated up to 15 minutes past start time.
You must remain in your allocated seat throughout the event. This is to ensure adequate physical distancing between audience members.
BEFORE YOUR VISIT
Please do not attend SIRIUS if you:
are experiencing any symptoms of COVID-19 or are feeling unwell.
are awaiting the results of a COVID-19 PCR or antigen test.
are self-isolating or restricting your movements.
have recently been diagnosed with COVID-19. Please consult HSE guidelines regarding testing positive for COVID-19: https://www2.hse.ie/conditions/covid19/testing/positive-result/
are a recent close contact of a person who is a confirmed case of COVID-19. Please consult HSE guidelines regarding close contacts: https://www2.hse.ie/conditions/covid19/contact-tracing/close-contact/
have been advised by a doctor to isolate or cocoon.
have returned from international travel and are not in compliance with government guidance.
CLEANING
We are frequently cleaning and disinfecting throughout the building, particularly high-touch point areas.
Additional training and PPE have been provided for all employees.
Additional hand sanitiser dispensers are placed at key points throughout the building.
Additional signage to promote hand washing and best hygiene practices has been posted throughout the building.
PHYSICAL DISTANCING AND QUEUES
We are using a managed queueing system to facilitate the checking of tickets and EU DIGITAL COVID-19 CERTIFICATES and to ensure that patrons can be seated in an orderly fashion whilst maintaining adequate physical distancing.
OTHER THINGS TO NOTE
Mobile phones must be switched off, put on silent or airplane mode during the event.
We reserve the right to make essential changes to the programmed event as circumstances demand.
We reserve the right to cancel any performance as and when circumstances demand. We notify patrons with as much notice as possible. Tickets may be refunded through Eventbrite.
Patrons considered to be disruptive or causing distraction to other audience members during an event are asked to leave the venue. No refunds are given.
We reserve the right to refuse admission.
By entering the venue, patrons consent to any photography, audio, and video recording that may occur at the event for documentation and promotional purposes. Where possible prior notice of photography, audio and video recording is given.
Patrons enter the venue at their own risk and assume all responsibility for their property.
If you have any queries, please email team@siriusartscentre.ie; we are not able to take phone calls to discuss any of these matters.
Thank you for your cooperation.