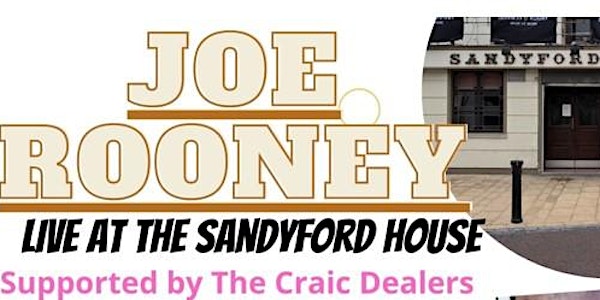 Joe Rooney - Live at the Sandyford House - Supported by The Craic Dealers
Joe Rooney comes to Sandyford! Supported by The Craic Dealers - Ben, Betsy, Jess, Sinead and Keego!
Date and time
Thu, 23 Sep 2021 19:30 - 22:00 IST
Location
Sandyford House Sandyford Village Sandyford Ireland
Refund Policy
Contact the organiser to request a refund.
About this event
One of the kings of Irish comedy, Joe Rooney comes to Sandyford.
Host of Podarooney (available wherever you get your podcasts) star of Father Ted and Killinaskully aswell as being a stalwart of the Irish comedy scene.
Joe is supported by The Craic Dealers, a group of the best new comics in the lads.
Ben Verth will be the host, the man with a voice so sexy, the mic may end up pregnant.
Betsy Speer who is dark comedy wrapped in the sweetest of sweets
Sinead Walsh brings her fast-paced, witty and extremely funny stories take in everything from nature, nursing a broken heart and nanny-goat mamboing.
Jess Collins is 6ft, politically incorrect, opinionated sometimes sexy and single bird who enjoys the laughter...
Keego struggles with his 1981 brain in 2021
A night of mirth, merriment and other things starting with the letter M is in store! Fantastic venue, full bar and belly fulls of laughs!