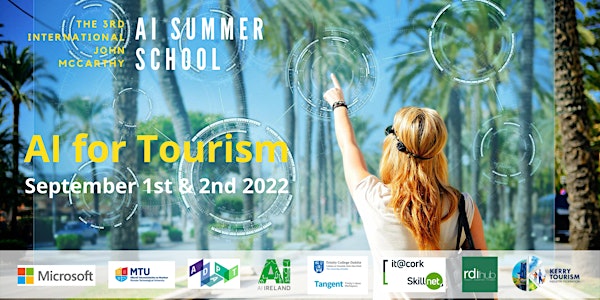 John McCarthy Artificial Intelligence Summer School 2022 | AI for Tourism
Join the John McCarthy AI Summer School event - AI for Tourism - a gathering of the brightest minds in Artificial Intelligence right now.
When and where
Location
Virtual and RDI Hub Killarney Road V93 KP68 Killorglin Ireland
About this event
We are delighted to announce that the following partners - RDI hub, Microsoft, Munster Technological University, The SFI ADAPT Centre for AI Driven Digital Content Technology, Tangent (Trinity's Ideas Workspace) AI Ireland and new partners IT@Cork Skillnet and Kerry Tourism Industry Federation will jointly host a blended AI Summer School on the 1st and 2nd of September 2022.
The third John McCarthy AI Summer School event will take place over two half days and will include plenary lectures and roundtable discussions, on selected topics presented by leading experts in the field of Artificial Intelligence for Tourism.
The school is aimed at Professors, Post Docs, PhD students, researchers and graduate students in the fields of Artificial Intelligence, Machine Learning, Natural Language Processing and computer scientists who have an interest in statistics and Machine Learning.
Here is the full agenda for the two day event:
As this will be a hybrid event, you are welcome to attend in-person, please let us know as limited places are available. Looking forward to seeing you there!
AGENDA DAY 1 (Speakers' LinkedIn profiles are hyperlinked.)
September 1st 2022 | Core Research AI For Tourism
1pm. Speaker: Ian Millar Senior Lecturer Hospitality IT EHL Switzerland. Topic: "The latest hospitality IT trends : AI In Tourism, Past, Present and Future." Topic: In this introductory session, Millar will cover the pitfalls, challenges and opportunities hospitality has with technology especially AI. Hospitality is notorious for being a late adopter of technology, but this introductory session will cover the fantastic potential AI has in such a large industry as hospitality. From chatbots, voice, sentiment analysis, RPA and forecasting, to name a few.
1.30pm. Speaker: Célia Maria Quitério Ramos University Of Algarve, Portugal. Topic: "Using Sentiment and opinion analysis to pull smart insights from Tourism data".
Abstract : Advances in information technologies have brought about disruptive changes in the way tourist information has been produced and consumed by all stakeholders in this economic sector. The opinions expressed in the digital environment generate vast and valuable content that must be analysed to provide recommendations to tourism managers. The analysis of users' opinions and feelings makes it possible to evaluate and highlight specific aspects of hotel, restaurant, transport and/or cultural events services, with a view to improving the quality of service, increasing consumer satisfaction and, consequently, increasing customer loyalty. Sentiment and Opinion Analysis is the field of study that extracts people's opinions, feelings, evaluations, and emotions from the text, in this case, the tourist-generated content. It is one of the most active research areas in data mining and text mining. Sentiment analysis can be applied to reviews to gain more insight into the image dimensions of tourist destinations, gastronomy, guest preferences in hotels, tourist transport experience, museums or health and wellness activities, taking into account opinions of travellers generated on social media.
2pm. Speaker: Arnaud Muller, CEO UPMC Sorbonne Universitiés, France. Topic: CLEYROP – The European Sovereign Datahub.
Abstract: Founded in 2021, Cleyrop was born from a strong conviction : Activating the potential of data is an opportunity for progress and can only be achieved through a collective and continuous effort on a European scale. Indeed, despite the growing adoption of data & AI technologies, companies remain helpless in the face of the complexity of the urbanization of their data infrastructure. This observation is explained by : • A highly fragmented and constantly evolving data and AI ecosystem • Still too long time to market for data and AI solutions. A lack of collaboration and low adoption of solutions by the business lines Cleyrop is the first industrial, secure and modular DataHub that provides turnkey access to the best European data and AI solutions in a consistent and ready-to-use platform whose use promotes the industrialization of processes. The platform is aimed at customers with strong sovereignty and industrialization issues, both in the health and energy, finance or defense sectors.
2.20pm to 2.40pm. Speaker: Francisco Javier Melero Rus Lecturer at University of Granada, Spain. Topic: "Smart Tourism: how to apply AI to each step of the traveller journey" Insights about challenges still open in Tourism, both from the visitor and from the destination point of view.
2.40pm to 3pm. Speaker: Dr Breda O' Dwyer Munster Technological University. Topic: MTU Research Colloquium Overview : Past, Present and Future Plans.
3pm to 3.30pm : Coffee break
3.30pm Speaker: Niall Murray Technological University Of the Shannon / ADAPT Research Centre. Topic: Immersive, Multisensory and active digital tourism experiences
4pm Speaker: Linda O Loughlin, Munster Technological University. Topic: "The future is Yesterday: Exploring the role of AI powered decisions to generate holistic data driven insights in a changing Tourism climate".
4.30pm: Enda Mc Govern: Sacred Heart University, Fairfield, Connecticut. Topic: "Consequences of climate change on Tourism".
5pm: Panel Discussion with Niall Murray, Linda O Loughlin and Enda Mc Govern
5.30pm Day 1 Ends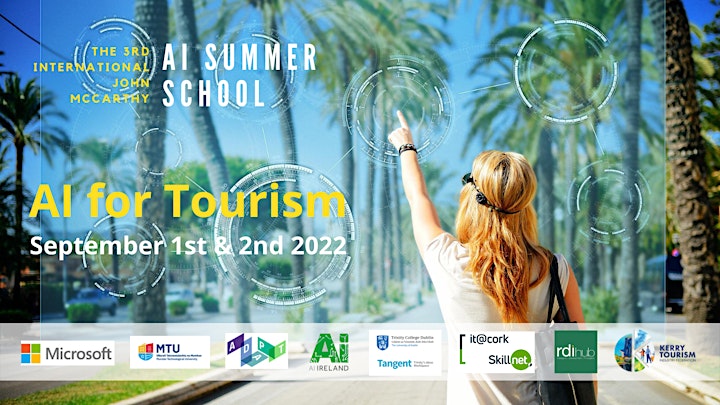 AGENDA DAY 2
September 2nd 2022 | Applied Research AI For Tourism
8.45am. Speaker: Dr Haithem Afli. Topic: MTU Research colloquium finalist pitches and announcement of winners.
9.30am Keynote Speaker Pete Syme, Digital Leader Seeking Disruptive Challenges In Rebuilding Travel And Tourism. Topic: How AI can help the talent crisis in travel and tourism?"
Abstract: Pre-pandemic travel and tourism already had a challenge recruiting and retaining talent for roles that were often seen as stepping stones to other industries. Currently, the lack of talent is a strategic issue impacting all sectors of the industry. For many businesses in the industry, pre-pandemic new technology was a nice to have but will be for a later day. Today it is a strategic must-have to enable survival and productivity. Tourism businesses can leverage AI to help. The question is will they?
10am Speaker: Kevin Neary, Chief Executive at Orcawise.com Topic: Marketing Artificial Intelligence for Travel, Tourism and Hospitality
Abstract: Whether you're marketing an airline, a tourist app or a hotel room, the one thing that separates winners from losers is "personalization". These markets are ubiquitous, fragmented, multi-dimensional and full of opportunities that can be difficult to identify and reach. Thanks to AI, it's now possible to connect your business to every online data source and extract automated pipelines of marketing signals. Signals are rich in buyer experiences, emotions, trends, sentiments, intents and are fast becoming a very valuable tool to personalize sales messages and start conversations at scale.
Whether you simply want to run a demand generation campaign or maybe go to the next level with a product-led growth strategy; where marketing AI is embedded inside your applications, Orcawise provides the full suite of Marketing AI products and services. Now is the time - make AI your marketing competitive advantage.
10.20am Speaker: Frank Reeves Founder & CEO Avvio
Avivio Digital Marketing for your hotel unlocks the power of data science and predictive personalisation to ensure a curated brand experience at every stage of your guest journey.
10.40am Allan Nelson: CEO & Co-Founder at For-Sight.
Traveltech, Hotel CRM, Data For-Sight (CRM data from guest surveys from client hotels) to identify patterns and trends in guest behaviour, in order to develop guest loyalty and allow hotels to create more direct relationships with guests, and generate more direct revenue rather than giving commissions to OTA's.
Coffee Break 11am to 11.20am
11.20am Speaker: Michael Wilson Head Of Data Science Car Trawler
CarTrawler provides unrivalled breadth and depth of transport suppliers across the globe, including car rental, private airport transfer and ride-hailing services. CarTrawler works in partnership with many of the world's biggest travel brands, providing mobility services for over a quarter of the top airlines brands globally. As a B2B company, they focus solely on helping their airline and travel partners build their brands.
11.40am Speaker: Niall Campion Virtual Reality Content Creation (VRAI.ie)
How to innovatively combine Virtual Reality (VR) and Artificial Intelligence (AI) to provide enterprise and public service organisations with a scalable, remote training solution. VR simulation training provides reduced risk, improved outcomes and increased information retention in comparison to traditional training.
12.00. Speaker Michael Guerin Founder @ Imvizar | Immersive Experiences & Smart Cities.
Kerry Way App to utilise existing content and package into an App including AR for some segments to enhance visitor experience.
12.15. Speaker: Ivan Tuohy CEO and Founder GreatVisitorExperiences.com. Topic: Influencing the in-destination visitors decision making process through AI.
Abstract: As a tourist when we visit a destination, many of us continue to rely on word of mouth and review sites to inform us on what to do and where to go. Do we ever stop to think about what we are missing out on and what might be located beside us? Business owners find it difficult to justify the high commission from OTA's and paying for expensive social media and google adverts. Is there a better way of targeting customers and informing them of all the unique experiences and special offers while tourists are in-destination?
Our view of the world is based on a shared visitor economy where an AI solution is a trusted partner. Great Visitor Experiences is building products where it will offer the visitor personalised messaging, best pricing for ticketing, events and informing them of everything there is to see and do based on their location and interests.
12.30. Speaker: Lena Angland Founder https://wanderful.ie/ Topic: Killarney National Park App @ https://ciarsquest.ie/ "Find the hidden wildlife of the Kingdom".
12.45. Panel Discussion with Frank Reeves, Lena Angland and Ivan Tuohy
1pm. Event Ends
The John McCarthy AI Summer School event is sponsored by Microsoft, Munster Technological University, ADAPT Research Centre, AI Ireland, Tangent, IT@Cork Skillnet and Kerry Tourism Industry Federation.