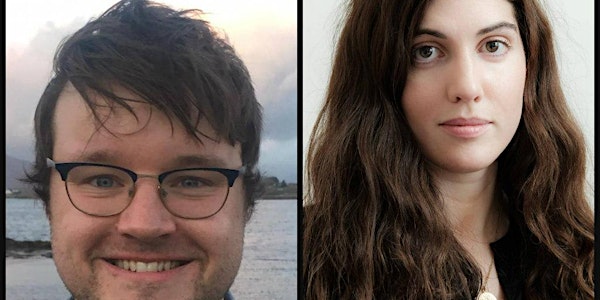 John Patrick McHugh & Nicole Flattery chaired by Mia Colleran
John Patrick McHugh & Nicole Flattery chaired by Mia Colleran
When and where
Location
An Diseart Green Street Fresco Room Dingle Ireland
Refund Policy
Contact the organiser to request a refund.
About this event
John Patrick McHugh has slowly been building a name for himself over several years as a short story writer, publishing his work in in literary journals such as The Stinging Fly, Granta and Winter Papers. HIs debut collection Pure Gold is set on a fictional island, partly inspired by Achill, where his mother hails from. As a person battling with dyslexia, he has overcome it to produce not only his own fine work but has been rated by his friend Sally Rooney as an invaluable editor and advisor to her.
Stinging Fly editor Tom Morris was instrumental in connecting McHugh with Rooney and two other budding talents, Nicole Flattery and Michael Nolan, to support and mentor each other. Flattery joins McHugh for this event to discuss their work.
After completing her studies at Trinity College – theatre and film with a Master's in creative writing – Nicole Flattery made a name for herself as a writer of short-stories, gaining a following through works published in the Stinging Fly, White Review, Dublin Review, and Winter Papers.
In 2017, she won the prestigious White Review Short Story Prize for her story 'Track', and on the back of that success signed a reported six-figure, two-book deal with Bloomsbury. Her first collection of short stories "Show Them A Good Time" was published by The Stinging Fly Press in February 2019
Cancellation Policy
This event will take place within the government public health restrictions and guidelines of the day. Please be aware that this may include a requirement that attendees are fully vaccinated and/or to wearing a mask. If that this the case, we will require you to show your vaccination cert at the door.
Entry to the venues may be conditional on public health guidelines at the time of the performance, and not at the time of ticket purchase. Any changes to entry requirements will be communicated via email in advance.
The health and safety of everyone taking part in the festival is our priority, including volunteers, authors, audience members, and the public. The festival committee will take all the precautions necessary to make sure the festival is run safely.
Events may be subject to change depending on the latest current public health advice.
Refunds will only be offered if the event is cancelled.