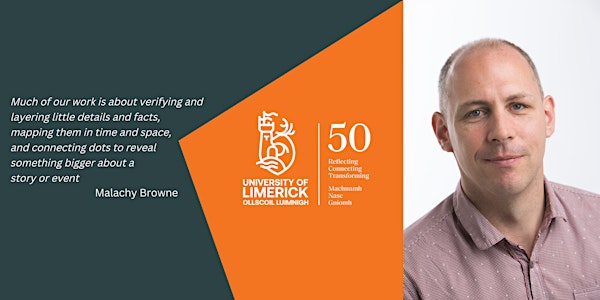 Joining the dots: New Frontiers of Investigative Journalism
Joining the dots: New frontiers of investigative journalism With Pulitzer Prize-winning Journalist Malachy Browne
When and where
Location
Kemmy Business School, KBG12 Lecture Theatre, University of Limerick Plassey V94 T9PX Castletroy Ireland
About this event
Joining the dots: New frontiers of investigative journalism
In this public talk Malachy Browne will be discussing some of the cutting edge approaches to investigative journalism that are increasingly driven by large datasets both hidden and publicly accessible.
Via a multimedia presentation, he will be walking through some recent major stories that his award winning team at the New York Times has worked on, from war crimes in Ukraine to police shootings in the US, and demonstrating how to extract reporting details and analysis of evidence that is often hidden in plain sight. He will also show how these are combined with traditional reporting methods as well as the key principles by which the New York Times Visual Investigations Unit approaches their work.
He will also be discussing the declining trust in traditional media and the weaponization of social media, and the higher bar that journalism must meet in explaining to readers/viewers how we know something to be true.
Malachy Browne Bio:
Originally from Broadford, Co. Limerick, Malachy Browne is a multi-award winning journalist specialising in international investigative reporting via eyewitness media and community engagement. Having joined the New York Times in 2016 to work on its breaking news and video initiatives, he was a founding member of the world-renowned Visual Investigations team there, which combines traditional journalism with the analysis of visual evidence.
In 2020: he investigated the killings of Breonna Taylor, Ahmaud Arbery, Rayshard Brooks and other Black citizens in the U.S. In 2019, he directed a series of reports proving that Russian pilots repeatedly bombed hospitals and civilians in Syria. He has produced definitive investigations into Jamal Khasoggi's murder, the Las Vegas mass shooting, chemical attacks in Syria and military killings in Nigeria and Gaza.
This teamwork has been cited in murder trials, congressional hearings and UN Security Council meetings. It has triggered government inquiries and policing reforms.
Malachy shared in the Pulitzer Prize for International Reporting (2020) and three Pulitzer finalist citations. He has received a George Polk Award, four Emmys, Scripps Howard and Overseas Press Club awards, and an Investigative Reporters and Editors Award, among others.
He co-directed Day of Rage, a 2021 documentary on the U.S. Capitol riot that received Peabody, duPont and Murrow Awards, a Critics Choice nomination and was one of 15 films shortlisted for Oscar consideration.
Before joining The Times, Malachy was Managing Editor at the award-winning (ONA) start-up Reported.ly, the social reporting arm of First Look Media. He broke exclusive investigations into the active export of Italian arms used to bomb Yemen, and the forced relocation of asylum seekers in the Calais 'Jungle' camp around France.
Malachy worked as News Editor at the news agency Storyful for almost four years. He is a director of Right to Know, an Irish organization campaigning for access to public information. Malachy created and edited Politico.ie (2009), an Irish political website and magazine archive. He worked for the political magazine, Village from 2006 to 2008 and ran the magazine's website, Village.ie.