Description
Julio Victoria embarked on his LIVE project in 2014, with the goal of transcending the dance floor. Merging electronic rhythms with indigenous instruments, he crafed experimental new sounds; a sonic ride that goes from 80 to 126 bpm, across multiple musical genres and cultures.
Having researched traditional rhythms from Colombia's diverse roots, Victoria was inspired by the sounds of the pacific coast and eastern plains. Afro-colombian instruments, such as the marimba, have been blended with the harp, a staple of joropo country music. With these, Victoria performed with resounding success at Estéreo
Picnic, the largest private festival in Colombia; and at BAUM, the biggest electronic music festival in Bogotá. He has also taken these experimental sounds to places in Bogota not accustomed to electronic music, like the Planetarium and Teatro Colón.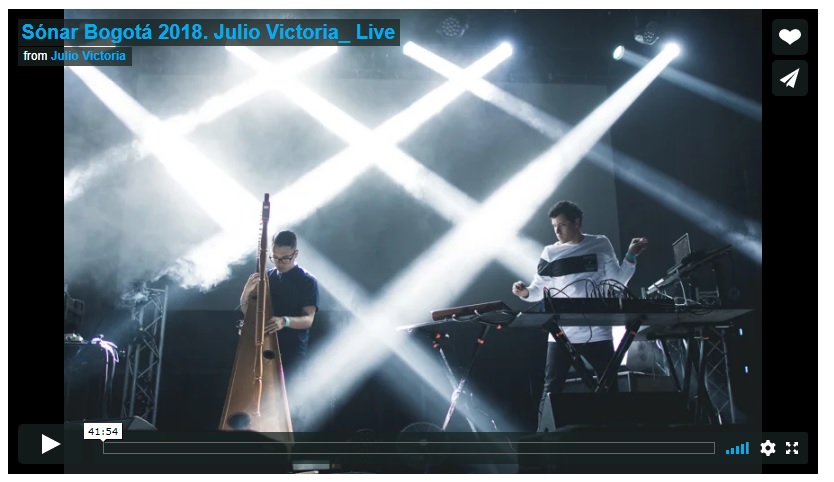 Julio Victoria se embarcó en su proyecto LIVE en 2014, con el objetivo de trascender la pista de baile. Fusionando ritmos electrónicos con instrumentos indígenas, creó sonidos experimentales nuevos; un paseo sónico que va de 80 a 126 lpm, a través de múltiples géneros y culturas musicales.
Tras investigar los ritmos tradicionales de las diversas raíces de Colombia, Victoria se inspiró en los sonidos de la costa del Pacífico y las llanuras orientales. Los instrumentos afrocolombianos, como la marimba, se han mezclado con el arpa, un elemento básico del joropo. Con estos sonidos, Victoria actuó con un éxito rotundo en Stereo Picnic, el festival privado más grande de Colombia; y en BAUM, el mayor festival de música electrónica en Bogotá. También ha llevado estos sonidos experimentales a lugares en Bogotá que no están acostumbrados a la música electrónica, como el Planetario y el Teatro Colón.