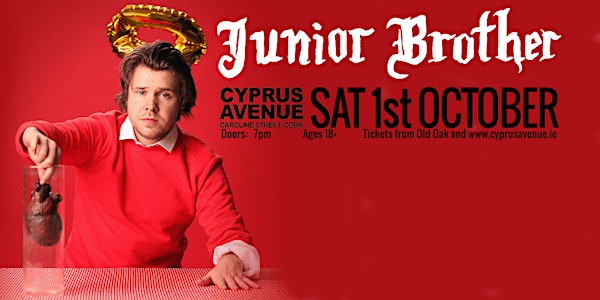 When and where
Location
Cyprus Avenue Caroline Street Cork Ireland
About this event
An idiosyncratic, challenging and richly lyrical singer/ songwriter, Junior Brother is the pseudonym of Co. Kerry, Ireland singer Ronan Kealy. Chosen as The Irish Times' Best Irish Act of 2019 and nominated for the 2019 Choice Music Prize for Album of the Year, Junior Brother has built a rabid following thanks to unmissable live shows, and music both excitingly forward-looking and anciently evocative. His strange stories unfold with reckless abandon upon a distinctive guitar and foot tambourine accompaniment, influenced as much by the avant-garde as music from the Middle Ages and his home place in rural Ireland.
In addition to earning a Choice Music Prize nomination, Junior Brother's trailblazing debut album "Pull The Right Rope", also saw Kealy garner two nominations at the 2019 RTÉ Radio 1 Folk Awards, for Best Folk Album and Best Emerging Folk Act. Similarly, vigorous approval from modern-day Irish figureheads such as the Rubberbandits and Cillian Murphy has furthered Junior Brother's stock, the latter playing Junior Brother several times on his BBC Radio 6 Music Show. Along-side further airplay, his television performances include appearances on RTÉ's the Tommy Tiernan show, Other Voices and the Choice Music Prize Awards night in Vicar Street.
PRAISE FOR THE GREAT IRISH FAMINE
"Wry songs of anxiety and frustration"
The Guardian ⭐️⭐️⭐️⭐️
[An] unfiltered acoustic mix of neuroses, loss of innocence and religious oppression...Truly unforgettable"
Mojo ⭐️⭐️⭐️⭐️⭐️⭐️⭐️⭐️
"Junior Brother's The Great Irish Famine captures the range of feelings we face when learning our place in an increasingly shaky world built on a foundation of tragedy."
PopMatters
"More ambitious than his debut, an ambition met"
The Thin Air ⭐️⭐️⭐️⭐️
"The songs of 'The Great Irish Famine' are from a shaken world, songs that can be both cathartic and comic, personal and universal"
Songlines ⭐️⭐️⭐️⭐️⭐️⭐️⭐️⭐️
"Magnificent...A strange but wonderful trip"
Hot Press ⭐️⭐️⭐️⭐️⭐️⭐️⭐️⭐️