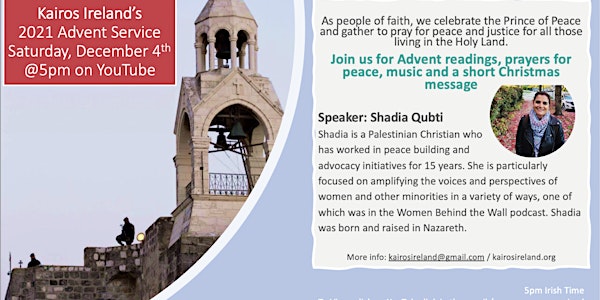 Kairos Ireland 2021 Advent Service
Join us for Advent readings, prayers for peace, music and a short Christmas message
About this event
As people of faith, we celebrate the Prince of Peace and gather to pray for peace and justice for all those living in the Holy Land.
Speaker: Shadia Qubti
Shadia is a Palestinian Christian who has worked in peace building and advocacy initiatives for 15 years. She is particularly focused on amplifying the voices and perspectives of women and other minorities in a variety of ways, one of which was in the Women Behind the Wall podcast. Shadia was born and raised in Nazareth.
Event details:
Kairos Ireland will livestream this event on Youtube.
For news about further events please go to the Kairos Ireland website https://kairosireland.org/ To be added to our email list please send an email to kairosireland@gmail.com