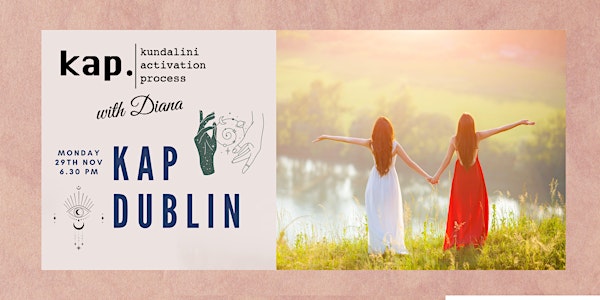 KAP Dublin - Kundalini Activation Process. Open Class
Inner Transformation with KAP energy!
When and where
Location
F2 Centre 3 Plaza Reuben, Rialto, Baile Átha Cliath Dublin Ireland
Refund Policy
Contact the organiser to request a refund.
About this event
Welcome to KAP with Diana!
KAP is a beautiful Divine Energy Transmission that activates the Kundalini Awakening Process.
It is a profound yet safe and natural process that has transformed lives of many participants.
The magic happens within you and reflects your outside world.
KAP is a path of surrender, letting go, allowing. it is not a path of will. Received energy works through every layer of one being activating, re-aligning, connecting energy channels and releasing stagnant energies and emotional blockages.
It's a wonderful journey of empowerment, self-discovery, awakening. Connecting to your authentic self and embracing what was/is always there for you. Realising your potential and potential of this life, your purpose, your truth. It's a deep feeling of pure love, freedom, liberation & inner peace.
My name is Diana, and in 2019 I trained to become a KAP facilitator under the master Venant Wong, the founder of KAP. Since then, I have run hundreds of group classes and individual sessions.
I invite you to join me for a wonderful journey within yourself!
Event details:
When: Monday the 29th of November
Time: 6.30 pm to 8.30 pm
Location: F2 Centre
3 Reuben Plaza, D8 Rialto, Dublin
Investment: 50 euro per person
Limited availability.
Please get your ticket now.
Fully refundable if the event will not go ahead due to changes in restrictions.
Please arrive 10 minutes before your class and be punctual.
Bring your yoga mat and wear comfortable clothes.
Please do not eat 2 hrs before the session.
Please note this is group activation.
KAP is a process, 90% of participants experience their first signs "symptoms" of an awakening of their Kundalini energy from the earliest signs to the later end manifestations.
During the process, you lie down on your yoga mat with your eyes closed. Simply relaxing and letting go while the music and transmission of this beautiful Lightforce energy work its magic. It is your time and it is your private journey. This intelligent energy knows what is needed and will not shock your system or harm you in any way.
What is KAP?
KAP is a direct energy transmission that activates the Kundalini awakening process.
Exposure to the KAP energy results in an energetic rewiring of the brain structure and central nervous system as it also increases your natural life force energy flow and uplifts your vibration. Often KAP brings the presence of calmness, relaxation, clarity, pure joy or bliss. This energy seeks out and heals what is needed and helps to release the limitations and blockages. The process is very personal and often leads to life-changing events.
What Can Happen During the Session:
-ENERGETIC: Feeling the heat, vibrations and/or other sensations of energy in the body.
-MOVEMENT: Spontaneous (not intentional) movement of the body that opens and aligns the energy system.
-VISUALS: Visual experiences like seeing colours, patterns, light, and even astral journeys.
-EMOTIONAL EXPRESSION & RELEASE: Spontaneous laughter, screaming, crying, and other releases of stuck/suppressed emotion, along with feelings of love, joy, lightness etc.
-BLISS STATES Profound sense of oneness, connection with source, and pure blissful joy.
More about KAP, please visit:
www.kapdk.ie
https://www.venantwong.com/
Articles about KAP:
http://www.sfyogamagazine.com/.../mind-the-kap-kundalini...
I am looking forward to meeting you soon and diving together into this wonderful experience. Feel free to share this event with your friends!
DISCLAIMER
​
By attending the session, you certify that you have read and agree to the following disclaimer. KAP may involve physical movements as well as an opportunity for stress reduction and improved mental well being. As is the case with any physical activity, the risk of injury, even severe, disabling or fatal, is always present and cannot be eliminated. If you experience any pain or discomfort, you will listen to your body, discontinue the activity, and ask for support from the instructor. You may continue to breathe smoothly. You assume full responsibility for any damages, which may incur through participation. KAP is not a substitute for medical or psychological attention, examination, diagnosis or treatment. KAP is not recommended and is not safe for those prone to mania, delusion or psychosis. By registering for this class, you affirm that a licensed physician has verified your good health, physical and mental condition to participate in such a program. Also, you will make the instructor aware of any medical conditions or physical limitations before class. If you are pregnant, become pregnant, or post-natal or post-surgical, you affirm that you have your physician's approval to participate. You also confirm that you alone are responsible for deciding whether to practice KAP and participation is at my own risk. You hereby agree to irrevocably release and waive any claims that you have now or may have hereafter against KAP (Kundalini Activation Process) and its instructors. We wi will never share your email with any third party. We will only use it for communication purposes between you and KAP with Diana.