Katie Theasby, Sara Ryan , Clara Buteler and Anne Rynne released albums within a month of each other. Anam Music wanted to mark this event.
About this Event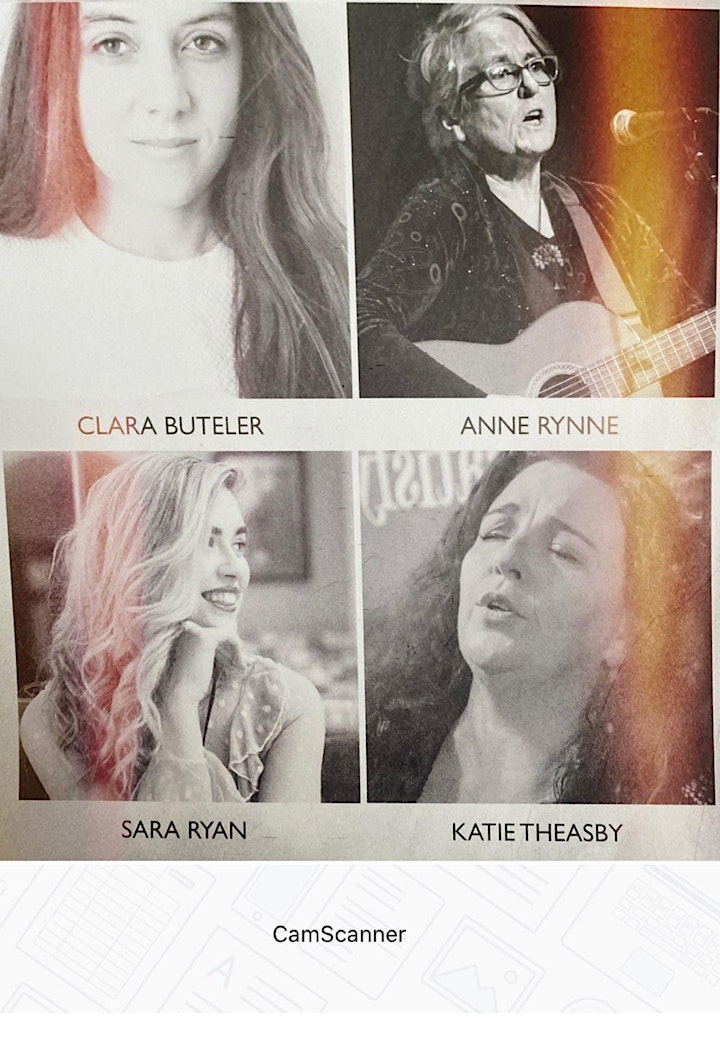 These 4 wonderful singers -  Katie Theasby, Sara Ryan , Clara Buteler and Anne Rynne all released albums within a month of each other in late 2019. Anam Music wanted to mark this in some way. Each singer has a unique style and yet are together in their passion for the songs and the music. This will be a really special gig. 
KATIE THEASBY
Katie Theasby was born in London in 1976 into a very musician family as her father, Paul Theasby was the fiddle player with Dingle Spike, a London based Irish band. Her mother, Gloria Pahad, was a great influence on her singing and taste in music who was involved with the African National Congress and Katie was singing in the South African Xhosa language from an early age.Katie made her public debut aged 15in the Stags Head, Camden Town, when she sang Patsy Cline's Crazy.Katie was lucky to have grown up both in the London / Irish music scene and the sessions in Kilfenora, Co Clare. She is a self taught whistle / flute player and singer and at the start of her career played with Ron Kavana's band Alias for a couple of years around the pubs, clubs and festivals circuit including a Glastonbury slot at the tender age of 14. These days home is Kilfenora and Katie is constantly playing sessions, gigs and festivals around Clare and further afield.
SARA RYAN
"Embrace love and the light that shines within you". This is the message uniting the themes behind Kildare-born, Cork-based songwriter Sara Ryan's debut album Breathe. Through ten tracks Sara invites the listener to see the light in the dark and embrace hope. Breathe takes the listener on a journey of conscience, examining the power of social media and how detrimental it can be; detrimental to our connections with other humans and our perception of ourselves. Breathe is a social commentary speaking about subjects that need to be addressed - focusing on homelessness, direct provision and racism. Breathe embraces the struggle between feeling powerless over the injustices of the world and the injustices within the self. But the message of Breathe is hope. Sara asks the listener to go through the darkness, face it, and see the light through the cracks and follow your dreams. Nature also features as a theme throughout Breathe as a source of healing and an antidote to the damage modern society has on humankind.Sara showcases evocative vocals within every performance. Her sound creates a captivating soundscape, revealing a darker side simmering under the surface. She has shared the stage with artists such as Mick Flannery, Jack L, John Spillane, Wyvern Lingo and Luka Bloom; growing up singing everything from Christy Moore to Rory Gallagher, Damien Dempsey to The Doors, and Joni Mitchell to Bonnie Raitt. Her influences span out to a variety of places to create her sound, which is a colourful blend of folk, blues and soul. A new sound to Ireland, compiled with compelling raw Lyrics. 
ANNE RYNNE
Singer of SongsReleased her second album OH LIFE! in 2019.  Three covers and nine self penned songs about the trials and joys of life in Ireland today.  A relative newcomer to the scene, Anne likes nothing more than to sing her songs, to watch as people listen and sway along with her.  Her songs tell stories and provoke feelings and they calm and quieten people caught up in this noisy world.  
CLARA BUTELER
For Clara Buteler life has always been accompanied by music. From Argentina to Barcelona in Spain and then on to Ireland, music has been at the heart of each day. When she ended up in Ennis, Co Clare a beautiful town in the west of Ireland, she found a community of like minded friends who lived their lives through music and welcomed Clara immediately into the heart of this world of daily tunes and songs. Clara's love for Irish Traditional Music which she plays on Flute, Whistle and accompanies on Guitar and Bodhrán was appreciated in music sessions in the pubs and hotels of Ennis, Doolin, Lahinch and Liscannor. This new CD is a collection of the songs she has sang all over the world in her lifetime of performing. Half in Spanish and half in English, they blend seamlessly together and allow us to experience the emotion and the honesty of a great singer and guitarist joined by three musicians of  huge empathy and soul: Jon O'Connell on Double Bass, Adam Shapiro on Fiddle and Dermot Byrne on Accordion and produced by musician Eoin O'Neill. The debut album from Clara Buteler captures culture and invites us all to enjoy songs from an Argentinian soul