Keeping Kerry Active - Tennis Tens (Intro to Tennis for Kids)
Keeping Kerry Active Programme – Intro to Tennis (Tennis 10's Programme)
About this event
Keeping Kerry Active Programme – Intro to Tennis (Tennis 10's Programme)
Tennis 10's at Tralee Tennis Club
Try something new at Tralee Tennis club who are unveiling their tennis 10's programme for non members to give children a first real taste of a sport that is enjoyed by millions all over the world.
This programme will comprise of 2x2 hour taster sessions of Tennis for non members weeks.
This programme will be focused on connectivity within the youth of our community.
It will introduce young people to tennis in a practical and fun environment. The programme will be provided by the club coaches and will cover tennis 10's (Red, Orange and Green ball systems)
Activities of warm ups, drills, game principles and fun match play.
Name of Programme: Intro to Tennis (Tennis 10's Programme)
Date of Programme:
Name of Provider: Tralee Tennis Club
Duration of Programme: 2x2 hour sessions
Cost of Programme: €10
Target Group: Children (under8's, under 9's and under 10's)
Kerry Recreation and Sports Partnership are delighted to be able to support Kerry Sports Providers under The Keeping Kerry Active programme, a Keep Well initiative supported by Sport Ireland and Kerry County Council which aims to support Kerry sports businesses, clubs and facilities which have been impacted by the COVID-19 pandemic.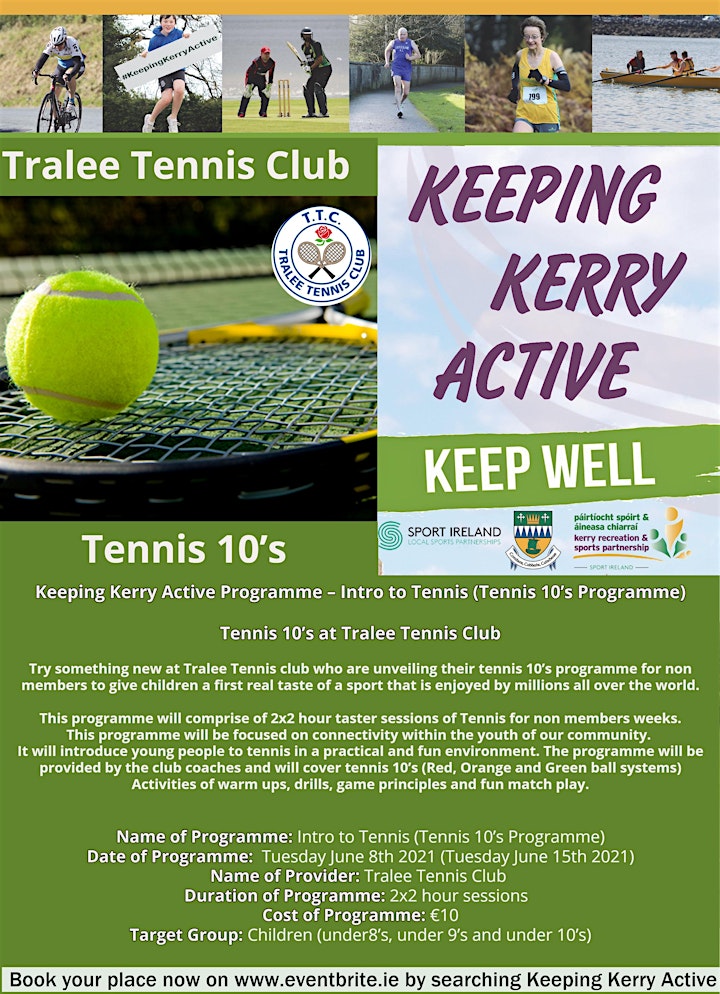 Organiser of Keeping Kerry Active - Tennis Tens (Intro to Tennis for Kids)