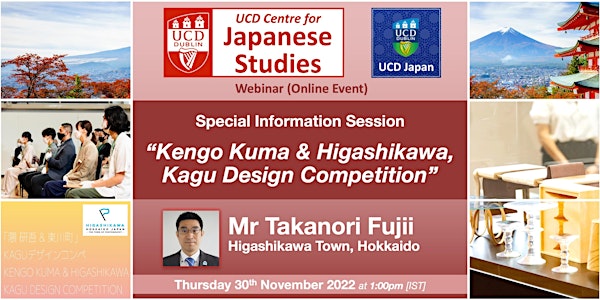 Kengo Kuma & Higashikawa, Kagu Design Competition
Special Information Session on the Kengo Kuma & Higashikawa, Kagu Design Competition
About this event
The 3rd Kengo Kuma & Higashikawa "KAGU" Design Competition is now open for entries. Higashikawa, the "Town of Photography" in Hokkaido, together with architect Kengo Kuma, invites young people from all over the world to submit proposals for a new KAGU. The theme of this year's competition is "Furniture Fits in the Open Air." The deadline for submissions is 31 March 2023.
We have established the "Kengo Kuma & Higashikawa" KAGU Design Competition together with Kengo Kuma, calling for designs that embody KAGU ― a new, mindful way of life for the young people who will shoulder the responsibilities of the future. The 1 st competition, held in 2021, received 1,876 pre-entries from 41 countries and regions and eventually as many as 834 submissions from 36 countries and regions. The 2nd contest received 1,588 pre-entries from 40 countries and regions, and eventually 581 final submissions from 23 countries and regions.
The theme of the 3rd competition is "Furniture Fits in the Open Air." Students, both domestic and overseas, at the age of 30 or younger are eligible to participate The deadline for entries is noon on 31 March 2023 Japan Standard Time (pre-registration is required by 28 February). Ten works will be selected from among the entries, and the award-winning works will be determined at the final judging in Higashikawa in June 2023 "KAGU" is an inclusive term for what connects humans to the world, and is defined as an extension of the traditional concept of furniture.