A fundraising effort for vital support for these important organisations to continue their voluntary ongoing work throughout Munster.
About this event
Did you spend hours and hours of lockdown cycling by yourself? Time to test your skills in the final cycle sportive event of the year. Cyclists of all abilities can join a special charity cycle on Saturday 9th October to enable these vital organisations to continue their voluntary work. A Leisure Route (70km, Tralee to Annascaul in blue below) and a Challenge Route (120km, Tralee to Dingle via Conor Pass in red below) will pass through some of Kerry's most stunning scenery.
The event starts (09:00) and ends at John Mitchell's GAA Complex, with a BBQ for hungry cyclists when they return. Prep your bike in advance by checking your tires and ensuring good working brakes and remember to bring a spare tube on the day.
Two food stops – Inch and Dingle – and full backup services (technical and medical) will be available across both routes.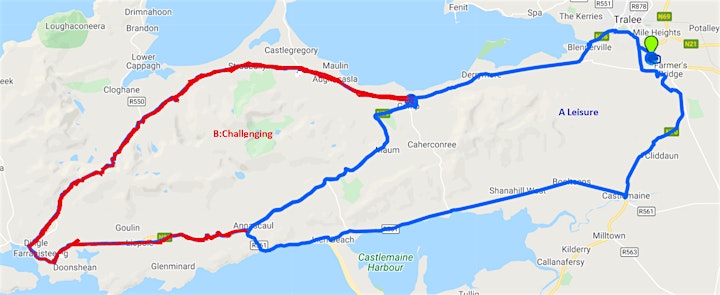 Organiser of Kerry Samaritans and Kerry Hospice Foundation Char