Location
South Campus
Clash Road
Tralee
Ireland
IMaR and Shannon ABC Research facilities - Guided Tour
About this event
MTU's South Campus is pleased to open it's doors to retired Munster Technological University staff and older people in the community. Come and join us for a guided tour of the IMaR and Shannon ABC research facilities and learn about the interesting research happening in MTU. Light refreshments will be served.
For more information contact us on afu@mtu.ie or 087 6259136.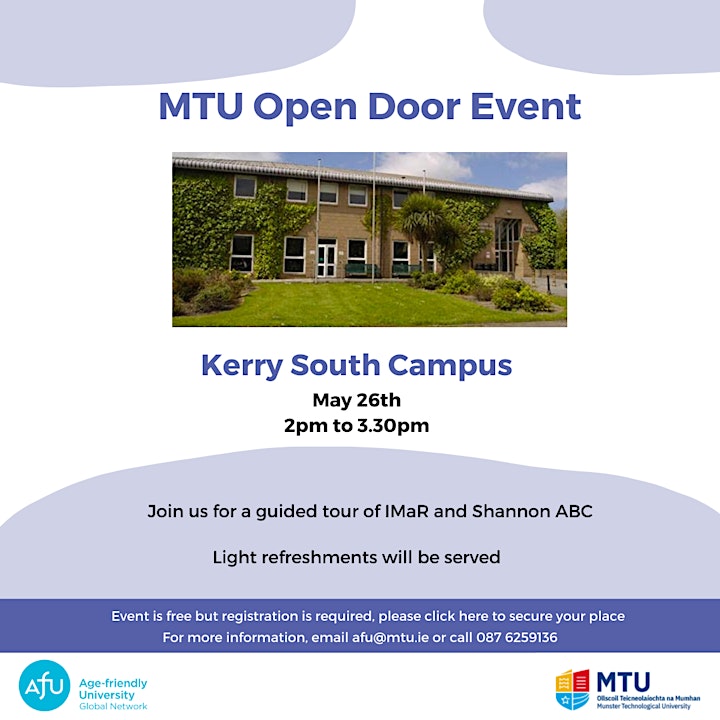 Shannon ABC is a commercially focused, state of the art, Research Centre and Technology Gateway.
The Centre brings together a multidisciplinary team of researchers with commercial specialists so as to provide a centre of excellence in applied research, capable of exploiting opportunities in science and technology to the benefit of the Regional and National economy. Shannon ABC has developed significant expertise in bioresources – detection, identification, characterisation and valorisation – and collaborates with industry and other research centres in order to deliver this expertise in applied settings.
It is a collaboration between Munster Technological University and the Technological University of the Shannon: Midlands Midwest. Our approach improves our client's competitiveness and competence, and facilitates the transfer of these innovative scientific solutions. Through strategic short, medium and long-term partnerships we provide creative, innovative solutions to industry's challenges as well as access to our research based pipeline of commercially focussed technology offerings.
for more information see https://www.shannonabc.ie/about-us/
The Intelligent Mechatronics and RFID (IMaR) Technology Gateway is based at Munster Technological University and is part of the Technology Gateway Network, a nationwide resource for industry based in the IoTs delivering solutions on near to market problems for industrial partners. IMaR provides solutions for companies using Intelligent Mechatronics, RFID and Internet of Things.
IMaR consists of two research strands Intelligent Mechatronics and Radio Frequency Identification & Internet of Things. Both are focused on the delivery of innovative solutions to industry and enterprise, whether it be improved operational efficiencies or new product development. Our aim at IMaR is to engage with industry across Ireland to increase competitiveness in the area of Intelligent Mechatronics, Internet of Things and RFID. We encourage you to talk with us so we can provide the best possible solution to meet your innovation requirements.
For more information see http://imar.ie/