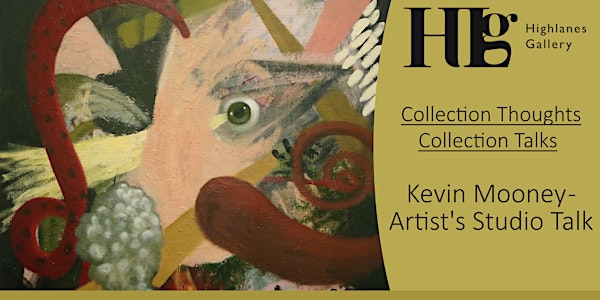 Kevin Mooney - Artist's Studio Talk
Join artist Kevin Mooney for another Highlanes Gallery Collection Thoughts - Collection Talks Lecture, this Thursday 29th April
About this event
About this Event
Join us as we connect with artist Kevin Mooney in his cork studio.
Kevin's work Amnesia was acquired to the Drogheda Municipal Art Collection in 2020, and will be on view for the first time as part of the Collection.
IMPORTANT: When booking, please note your Zoom Link will be emailed on the day of the event from Eventbrite/Highlanes Gallery. Please check your Junk/Clutter if you do not receive it in your main email box.
Attendee Outline:
• One ticket need only be purchased per household/screen
• A maximum of 60 screens/attendees/families may be admitted to the Session.
• Zoom Meetings are recorded for archival use
Zoom Guidelines & Settings
• The required ZOOM link will be sent to all attendees via Eventbrite 1 hour before the event starts
• If email from Eventbrite is not shown in your main email list, please make sure to check your Junk/Clutter/Spam/etc folder as this will have your ZOOM link.
• As further protection, each unique link will be accompanied with a password only for those intending to participate, and sent to the email used to book through Eventbrite
• ZOOM's 'Waiting Room' feature has been enabled, allowing the host to check and admit attendees to the session. Please make sure your ZOOM username/profile name matches that which was used to book through Eventbrite
• Use of Social Media Accounts to sign into the ZOOM meeting have been disabled to protect privacy of attendees
• File Sharing has been disabled
• ZOOM's Chat Save function will be disabled
• ZOOM's Private Chat function will be disabled
About:
Kevin Mooney is an artist based in Sample Studios, Cork. He graduated with a MFA from NCAD in 2012. Exhibitions include Pines Eye, Talbot Rice Gallery, Edinburgh 2020, EVA International, Limerick, 2018, Fragments of San Borondon, Triskel Arts Centre, 2019, (Solo), Apparition, Sternview Gallery, 2018, (Solo), Seeing Things, Artbox Projects, Dublin, 2017,(Solo), Twilight Head Cult, Ormston House, Limerick, 2016, (Solo), Looking Forward, Looking Back Now, Tactic Gallery, Cork, 2016, What Is and What Might Be, Highlanes Gallery, Drogheda, 2015, Making Familiar, Temple Bar Gallery, Dublin, 2012, Wave, Pallas Projects, 2014, (Solo), and The Law Is a White Dog, Tulca Galway, 2020. He is currently working towards a solo exhibition for the Excel Gallery in Tipperary for this upcoming October (2021) in which he received an Arts Council Commission Award.
He received a Visual Artists Bursary from the Arts Council of Ireland in 2012, 2013, 2016 and 2017. In 2015 he was shortlisted for Wexford Arts Centre's Emerging Artist Award. He was also shortlisted for the Thames and Hudson publication "100 Painters of Tomorrow" in 2013. In 2012, he was longlisted for the Saatchi New Sensations Prize.